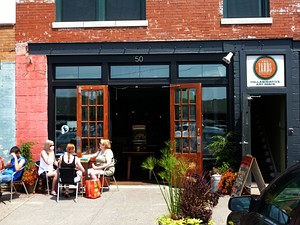 Location
50 Public Market, Rochester, NY 14609
Hours (as of July 2013)
Public Market hours
Phone
585 953 7120
Wheelchair Accessible
Yes
Alcohol
No
Email
<bakeshop AT javascafe DOT com>
Website
http://www.JavasCafe.com
Facebook - Bakeshop
Java's at the Market Coffee Roasters is the Market District location of the Java's brand. Their space also includes Java's Bakeshop which sells a variety of pastries. Outdoor seating is available.
After five, the space becomes the restaurant Cure.
Not to be confused with The Best Coffee at the Market two doors down.
Comments:
Note: You must be logged in to add comments