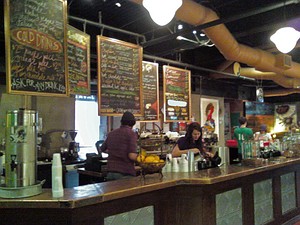 Interior view of Java Wally's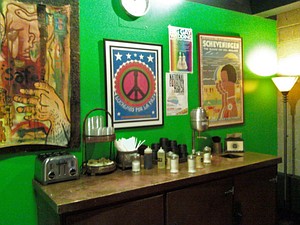 The artwork on the walls is all done by RIT students, faculty, and staff, and rotates periodically.
Location
90 Lomb Memorial Dr. Rochester, NY 14623
Hours (as of October 2009)
Monday - Thursday: 7:30AM to 10:30PM
Friday: 7:30AM to 9:00PM
Saturday: 11:30AM to 9:00PM
Sunday: 11:30AM to 10:30PM
Summer Hours:
Monday-Friday: 8:30AM to 4:00PM
Saturday/Sunday: Closed
Phone
585 475 4770
Alcohol
No
Website
http://library.rit.edu/javawallys/
Java Wally's is a small cafe within RIT's Wallace Memorial Library. It was formed in partnership with Java's Cafe downtown in 2001.
Similar to its partner cafe, Java Wally's walls are adorned with artwork, in this case all done by students, faculty, and staff of RIT - see
Artwork info and rules.
Periodically, Java Wally's will feature live performances (see
Entertainment) by mostly acoustic acts. During New Student Orientation at RIT, there is usually someone playing every night.
The selection is also similar to Java's Cafe: coffee, tea, smoothies, and other drinks are served, as well as granola, cookies, and other light snacks.
Free Wifi is provided for the RIT community via "Wireless Wallace".
Payment methods accepted traditionally consisted of cash and Tiger Bucks only, however as of 2010 Java Wally's also accepts debit and credit card from all of the major credit dealers.


Comments:
Note: You must be logged in to add comments
---
2007-05-17 17:09:43 It's sad how much they've cut their hours. :( When I went to RIT I think they were open until midnight or so every night. Last time I tried to go on a Monday night after the gym I found that they had closed at 9 or 9:30 (I can't remember exactly, but it was early). —AdrienneDahler
---
2013-02-16 23:57:42 Best coffee on campus, and in Henrietta, most likely. Wish they would add sandwiches - there's definitely a market for it! —LH