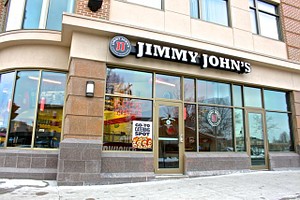 Monroe Avenue location (corner of Monroe and Alexander).
Locations
Phone
53 Celebration Drive, Rochester, NY 14620
585 481 2383
330 Monroe Avenue, Rochester, NY 14607
585 262 4446
1635 East Henrietta Road, Henrietta, NY 14623
585 270 5510
1075 Ridge Road, Webster, NY 14580
585 236 1123
Hours - College Town (as of January 2015)
Sunday - Thursday: 10:00AM to 12:00AM
Friday - Saturday: 10:00AM to 3:00AM
Hours - Monroe Avenue (as of September 2013)
Sunday - Wednesday: 11:00AM to 10:00PM
Thursday - Saturday: 11:00AM to 3:00AM
Hours - Henrietta and Webster (as of September 2013)
Daily: 11:00AM to 10:00PM
Wheelchair Accessible
All locations
Website
http://JimmyJohns.com
Jimmy John's Gourmet Sandwiches is a nationwide sub shop chain with four locations in the Rochester area. Two are in the suburbs of Webster and Henrietta. The other two are in the city, in the Monroe Village neighborhood (on the ground floor of the EarthLink building) and on Celebration Drive in College Town.
Jimmy John's promises "freaky fast" delivery.
Their Webster location opened early July 2011. The Monroe Avenue location opened in September 2013. The College Town location opened January 29, 2015.
Image courtesy of the The Rochesteriat. Used with permission.
Comments:
Note: You must be logged in to add comments
---
2011-07-20 14:35:12 Stopped to pick up takeout for dinner. Lots of booths + high-top tables inside. Order was made fast and the sandwiches were good. A lot less bread than DiBella's...not saying that's good or bad, just different. I liked that they had different options from other sub shops, like avocado and sprouts. Potato chips were also very tasty, and they were Jimmy John's brand. Found it interesting that they deliver; might give that a shot sometime soon. —JBeez
---
2013-08-20 21:48:52 Boring and Blah. Local places, Dibella's, Pellegrino's Deli Cafe and Amiel's are better. They must be doing business since a 3rd location is planned in the Earthlink building. —scotthendler
---
2015-03-28 23:34:58 Hours are very inaccurate. I just got out of work and waited to eat so I could try some Jimmy Johns for the first time. All locations in the Rochester area close at 10pm. I'm quite disappointed right now. Even Monroe. This was on a Saturday, for the record. This city sure does sleep, and it goes to bed early... —sub619