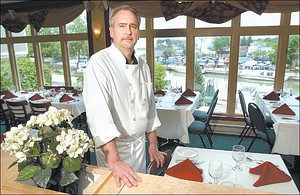 The Man Himself, Chef Joey B
Joey B's is a more casual (but still upscale) French Continental restaurant in Brighton.
Formerly located on the south side of the Erie Canal in Fairport, they moved to their current location in the Brickstone senior living facility in May 2015.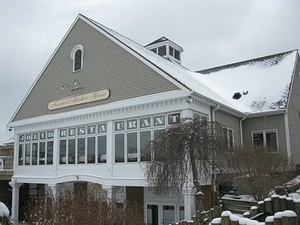 Old Fairport location in Feb 2010, BradMandell
Comments:
Note: You must be logged in to add comments
See Archive Page for comments prior to 2008.
---
2008-06-01 19:10:18 We've been going to Joey B's for years, and have always enjoyed the quality of the meals and the friendly service. The beef filet with blue cheese is one of my favorites. The newer location can be a little noisy if it's a busy night, but we're looking forward to eating out on the patio again sometime this summer. On a warm summer night, the view of the canal is really nice. —TimMortenson
---
2008-07-28 15:41:07 Took my parents here for dinner on a Saturday night to celebrate my mom's birthday. Overall it was a very pleasant experience. We ordered 3 drinks, 3 entrees and a dessert to share and the bill came out to about $100 with a 20% tip. The drinks were strong enough, the food was very tasty, fresh and just the right amount (portions were not very big but I thought it was enough) and was very nicely presented on the plate. The service was very friendly and very prompt.
The things I wasn't very impressed with...
I wish the decor was more elegant and more updated and cozy. I wish the waiters were dressed in formal attire instead of t-shirts of varying colors with Joey B's logos on them. I wish the check came in a black closed booklet. It felt a little like in a diner (or a Chinese buffet) with the check open face up in a black tray.
Those are small things that would make the environment feel more upscale. Even if by New York City standards $18 entrees can be considered a very good price for such a restaurant, in Rochester these prices demand an ambiance of a little higher order. I will gladly come here again but I won't be running. —JeffStetz

---
2008-08-25 17:38:17 We ate there last week and the food was excellent. It is also a good value with an inexpensive wine list and some good selections. The only ocmplaint I have was that it took a long time before someone approached us and checked the reservation list. We also had a ten minute wait before the waitress came to our table. After that though she was very attentive and the outside patio provided nice atmosphere.I have eaten here several times and have always enjoyed it. —FGeorge
---
2009-11-10 09:22:09 Went on a recent Friday with another couple and were all pleased with our dinners. Have had meals at other upscale restaurants and paid a lot more for a lot less. I had a chicken Oscar dish that was made with Crab and had just the right blend of crab and sauce so that the chicen wasn't overpowered. My wife opted for the duck dish and was very satisfied. My only complaint is that after being there a few times I wish the menu would change a little. But to this point I have never had a bad meal and will continue to go back. —almorinelli
---
2012-07-25 16:39:29 I went here once to celebrate a graduation for one person in my family in 2007. It was good food. I enjoyed it, the service was good too. —bonnev659