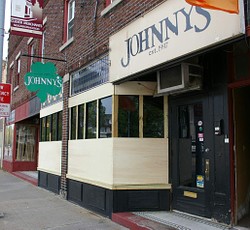 Johnny's Exterior, 5-2008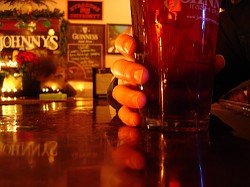 Johnny's - 2006" "
Image under CC license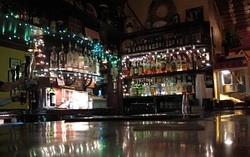 Booze with Xmas Lights, 12,2011
Originally opened in 1997 as Johnny's Smokefree, this bar in Culver Merchants offered a smoke-free environment prior to the state smoking ban now in place. They changed their name to Johnny's Irish Pub in 2003, when the ban went into effect. This is more in keeping with the ambiance. In addition to the requisite Guinness, you'll find beers from Custom Brewcrafters and plenty of live music (mostly Irish, but not exclusively).
They are located on Culver Road near Merchants. If you know where the old Ladd's bowling or Hitchcock's was, it's in that area. There is plenty of parking right behind the building Johnny's is located in.
They serve free popcorn, and the bar has two stages for live music. They also serve a Friday Fish Fry from 4:00PM to 10:00PM every Friday.
There were news articles regarding a closing in September 2018 but after a few weeks, staff have taken over to continue to run the establishment.
Monthly Meetings
Johnny's Irish Pub is the regular meeting place of the Bensonhurst Neighborhood Association. Meetings take place on the second Tuesdays of each month at 7:00PM.
Awards
Johnny's was voted 'Best Neighborhood Bar' in the 2002 'Best of Greater Rochester' poll in City Newspaper.1
Comments:
Note: You must be logged in to add comments
---
2006-09-09 16:57:54 Should we add an apostrophe to the title? I don't like how complicated the URL gets, but I've noticed apostrophes in other titles. Johnny's is a fantastic place for people who like beer. It has a much more mature atmosphere than many other bars in town. They have a small menu of traditional pub food, which I've never tried. —AdamDurand
---
2007-05-18 09:41:22 Went here last night, good music. The bartender was nice enough. They had Rohrbachs on tap, so that gets points from me. They also have a little pub menu. The people behind me had wings that looked and smelled great. —KimBee

---
2009-06-02 09:33:00 Nice place, but bring ear plugs if there's live music. Like many other bars, no thought was given to the acoustics when the place was designed. Pair this with the fact that many bands have no clue as to how they sound out front, and you've got a recipe for a headache. —SamKatt
---
2010-08-13 13:05:47 My adult children and I had a great meal here. Nothing fancy, good inexpensive bar food. The wings were baked, so a bit healthier. The roast beef sandwich on toasted roll I had was the freshest beef I've had outside my own home. Plus they have Smithwicks, my favorite Irish ale, on tap. Atmosphere is truly Irish pub, no glam. Definitely will visit again. —ErinDwyer
---
2014-02-27 09:39:20 Johnny's has always been a great spot, and a happy neighborhood meeting-place where you often run into people from around the area. Over the last few years the beer selection has grown with some excellent local, regional, and national micros on tap. I had wings there last night and they were awesome, very crispy, with an excellent tangy sauce. Nearby joints Merchants Grill and L&M have some serious competition for best wings in the area. Mid-week, it's low-key, the bartenders were friendly and attentive, and there was ample seating. We had a great night out for a big group of friends.
---
2019-10-02 03:36:43 Rochester CCE (Comhaltas Ceoltori Erin), an association promoting Irish traditional music, holds "learning sessions" in Johnny's on the last Sunday of the month from 2 to 4p. In said session, you can learn a repertoire of traditional Irish jigs and reels, if you play a fiddle or other traditional instrument (the basic instruments are fiddle, uilleann pipes, Irish flute, button accordion (melodeon), with mandolin and tenor banjo being more recent additions). A regular session follows from 4 to 7p. It's a pretty wholesome scene, with families celebrating birthdays, children running about (accompanied by their parents). They have managed to cultivate the atmosphere you might find in a West Clare pub. Quite an accomplishment for an American bar. —RobertEnglish