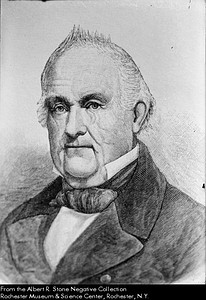 Mayor Johnathan Child. c. 1912 Jonathan Child was Rochester's first mayor, and was son-in-law of Nathaniel Rochester.
He was born in New Hampshire, and moved to Utica in 1805.
He was appointed mayor in June 1834 (and inaugurated in the Reynolds Arcade) but resigned in the spring of 1835. He was succeeded by Jacob Gould.
In 1837, he had a mansion built for himself, the Jonathan Child House, which is located on South Washington Street.
In 1850, Child's wife, Sophia, died, and Child moved to Buffalo. He died ten years later in 1860.