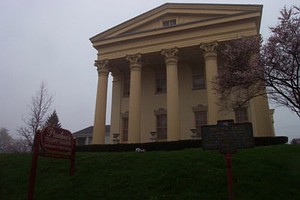 Location
35 South Washington Street, Rochester NY 14614
Phone
585 232 2260
Property Management
Buckingham Properties
The Jonathan Child House is a Greek mansion constructed in 1837 for Jonathan Child, Rochester's first mayor. It is part of the Third Ward Historic District. The historic marker out front reads:
Jonathan Child


First Mayor of Rochester 1834 — 1905 built the house in 1938 and lived here with his wife, Sophia Eliza Rochester Child, until 1840.
Full History
Jonathan Child sold the mansion in the 1840's and various residents through the years occupied it. In 1885 it became "The Pillars", a fashionable boarding house. In 1920 the Washington Club occupied it. The Fourth Church of Christ Scientist acquired the building in 1933 and it was purchased by the Landmark Society in 1957. They leased it to the Bureau of Municipal Research in 1961 and later became the Rochester Health Commission. Edwards Restaurant, previously in the Academy Building at 13 South Fitzhugh Street, relocated here in early 2002.1
The Jonathan Child House was acquired by Pillar Media Enterprises, LLC in 2011 and renovated into a special events venue called Rochester Pillars and a restaurant called Artisan Cafe. Both ventures closed in 2014. on July 1 2014, Tango Cafe moved their business to the home to have expanded ballrooms and parking.
Today, the surrounding neighborhood is known as the Cascade District and has been the target of revival efforts.
Comments:
Note: You must be logged in to add comments