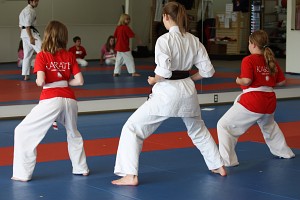 Kime Karate, located in Fairport, is a premier Rochester-area karate studio serving children and adults.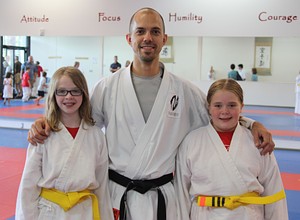 Sensei Aric Keyes, owner of Kime Karate, poses for photos with his students after a recent promotions ceremony.
Address
591 Moseley Road, Fairport, NY 14450
Hours (as of September 2012)
Monday - Friday: 4:00PM to 8:30PM
Saturday - 8:30AM to 12:30PM
Phone
585 223 2870
Wheelchair Accessible
Yes
Email
<akeyes AT kime-karate DOT com>
Website
http://www.kime-karate.com
Kime Karate, located in Fairport, teaches self-defense and fitness through Karate, Jiu Jitsu, Kickboxing, and Martial Fit programs for adults, teens, and children. They offers a Dragons program for preschoolers, as well as a Juniors program for children ages 7-14. Adult classes are also offered. Kime Karate is owned and operated by Sensei Aric Keyes.
Comments:
Note: You must be logged in to add comments