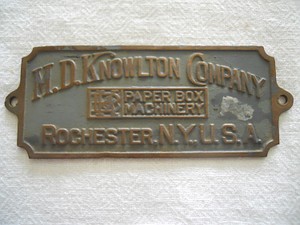 Brass machine placard from the M.D. Knowlton Company
The Knowlton Building once served as the manufacturing facility of boxes for the M.D. Knowlton Company. In 1998, it was purchased by the Loftus brothers, Jim & John, who renovated it into high-end lofts for residential and office use.
The Loftus brothers also own the building across the street,
The Cascade Building, which they renovated in 1985.
See also
Comments:
Note: You must be logged in to add comments