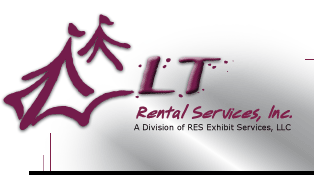 Location - Showroom
1750 Boulter Industrial Park, Webster, NY 14580
Mailing Address
435 Smith Street, Rochester NY, 14580
Hours
Info Needed
Phone
800 482 4049
585 217 0217
Email
<info AT ltrental DOT com>
Website
http://www.ltrental.com
LT Rental Services Inc., a division of
RES Exhibit Services LLC, is a family owned and operated full service event and tent rental business specializing in providing event planning, coordination, and rental properties to make your event a complete success. LT Rental has been providing services for over 15 years.
They have provided services for clients at large national events like the US Open Golf Tournament and the Ryder Cup. They have provided tents and portable bleachers for events such as commencement exercises for the University of Rochester, Nazareth College and St. John Fisher College and for high school and professional sporting events. Large community festivals such as the Rochester Lilac Festival, Irondequoit Oktoberfest, and the Oswego Harborfest have called on LT Rental Services for their expertise with handling a large number of tent rentals. Smaller scale events such as backyard birthday bashes and intimate dinner parties are handled with the same attention to detail, as are the large community festivals and corporate functions.
Some of the events they provide services for include weddings, birthdays, sporting events, commencement seremonies and parties, and sales functions. LT Rental Services can also provide lists of other professionals needed for such events, such as photographers and florists.
Comments:
Note: You must be logged in to add comments