L&M Lanes on Merchants, 5-2008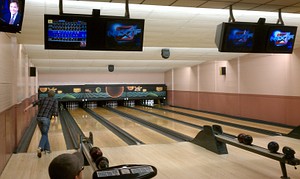 L&M Interior, downstairs lanes, 2-2012
L & M Lanes is a small local bowling alley on Merchants Road right off of Culver Road. Bar and restaurant also, get high marks for their chicken wings.
Comments:
Note: You must be logged in to add comments
---
2008-09-11 15:01:07 I have been here a few times. I have to comment because when my boyfriend and I told people we were going here, people told us that it was a creepy place with scary people. Those people had never been there, but had heard rumors apparently. It was NOT creepy and there were no scary people there, at least not scarier than any other bowling area. The bartender/bowling counter/owner seems really nice and the food we ordered was better than most bowling lane fare. For drinks, food, shoes and two games of bowling I think we paid just about $20, so not too bad. Especially if you live in the area like we do, this is a neat place to have a date. —SaraChristine
---
2009-04-17 17:44:51 Went here last night to try their legendary chicken wings and they were out of sauce. The beer selection, in both bottles and taps includes many regional and national micro-brewery standouts, including all of Anchor's regular offerings, Sierra Nevada Torpedo, Southern Tier Finn and Matt's (on tap), Victory Hop Devil (tap), Victory Storm King and MANY others. I said to my friend while we were sitting there that this might be the best bowling alley bar in the country (not that I've been to many). The owner/bartender is a kind and helpful woman who put up with drunken verbal spewage with aplomb. I'll definitely be back to bowl, and eat wings. One more thing: Lanes are often full for league nights, so call ahead if you plan to bowl. —ErikReinert
---
2010-02-03 09:41:43 Wings wings wings wings wings....yes, try the wings, as the legend states - amazing! But be careful, "hot" is HOT! And no, this is not a scary place at all. Plus, rumor has it there are bowling lanes there as well..... Great little place. —estone

---
2010-02-20 16:45:01 Fun Neighborhood joint. Cheap bowling, great beer on tap, good pub grub. A true gem if you like charming and quirky. —NewtonNola
---
2010-07-13 12:44:19 During the summer, L&M will be closed on Sunday and Monday. Best wings in town. —KimBee
---
2011-04-16 00:22:19 What a fun place! The bartender is a sweet, older lady and the bowling is cheap and quaint. We'll definitely be back! —BatGuano
---
2011-12-22 23:11:44 According to the former owners, L&M was recently sold to a younger couple who love the establishment. Linda will continue to work the bar on occasion. —ErikReinert
---
2012-04-17 09:15:14 I have to say, this place is a hidden treasure of Rochester. They have some neat retro ball returns that return the balls above the lane. Their beer selection is nice and the prices are low. —DamianKumor
---
2014-05-18 10:03:51 Still the best wings. Great beer, and an awesome place to have a party.