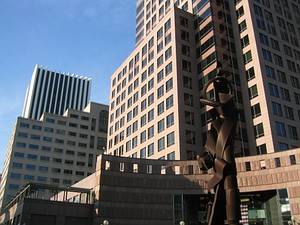 Bausch and Lomb with 1100 Clinton Square and J.P Morgan Chase buildings in background. Photo by Rachel Blumenthal (April 2007)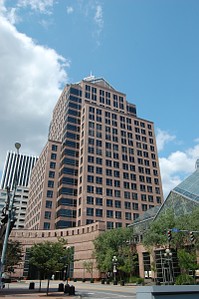 Bausch & Lomb Headquarters Downtown - by Andrew88
The Legacy Tower - formerly called the Bausch & Lomb Headquarters - is one of the hallmarks of Rochester's small but distinctive skyline. It was built in 1995, making it the newest skyscraper in the Rochester area.
The Bausch + Lomb tower officially opened in October 1995 after two years of construction. The project was hailed at the time for its post-modern, sculpted design and glass-enclosed winter garden.

"The building is probably the best example in this city of something that's playful," architect David Beinetti said just before the opening. "It's got a lot of things going on. It's got a great design. It's got great lights. It's got a great top."1
Located in the Washington Square Neighborhood downtown. The complex's address is sometimes given as 1100 Clinton Square, as that road forms the property's eastern boundary.
Recent Developments (2014)
In 2013 Bausch and Lomb was purchased by Valeant Pharmaceuticals, who moved the company's headquarters to Bridgewater, New Jersey. In June of the following year, Larry Glazer of Buckingham Properties announced that his firm, along with fellow local developers Morgan Management and Flaum Management, had purchased the former headquarters for $15 million. At the time, all Bausch and Lomb employees had relocated - either to the 1400 North Goodman site or out of town - and the building was half vacant, with nine tenants employing about 900 people. It had actually been on the market since 2010.
Glazer stated that he was looking for retail tenants for the ground floor in order to integrate this new project with Buckingham and Morgan's current work at Midtown Tower. The building's new name was announced on November 14, 2014. During this time it was also revealed that the Wintergarden's Berlin Wall slab had been given away by to a CEO in Switzerland as part of a business deal.
References
Comments:
Note: You must be logged in to add comments