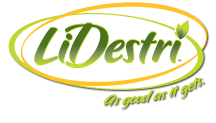 Location
815 W. Whitney Road, Fairport, NY 14450
Hours
Call for appt
Phone
585 377 7700
Accessible
Yes
Email
Employment/HR Questions- Jane Oca: <janeo AT lidestrifoods DOT com>
Website
http://www.LiDestriFoodAndDrink.com
LiDestri Food & Drink is a food manufacturer/distributor with headquarters and manufacturing facilities located in Fairport and Rochester, at Eastman Business Park.
CEO Giovanni LiDestri and his wife Cindy are the owners of the LiDestri Home on East Avenue.
From the Website
LiDestri Foods is the premier manufacturer of sauces, dips and salsas in the nation with manufacturing locations on both the east coast and the west coast allowing for lowest landed cost distribution points. Overall capabilities include hot fill, cold fill, retort, oils, vinegars and beverages.
Comments:
Note: You must be logged in to add comments