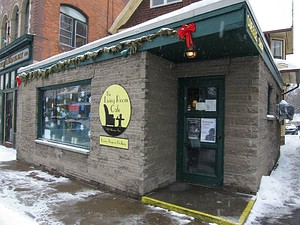 Exterior, Jan 2011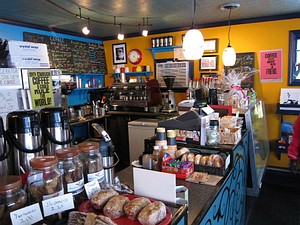 Colorful inside, Jan 2011
Obviously awesome cupcakes, Jan 2011
The Living Room Cafe was a coffeehouse and cafe located in the Upper Monroe neighborhood. Selections included Fair Trade and organic coffees as well as other confections. They opened in 2010.

Displayed throughout the shop were works by local artist Henry Avignon, who specializes in conceptual photography (photosculpting).

The Rochester Bike Kids met at Living Room on the first and third Mondays of each month for their Espresso Express tour of the city.

In April 2012 the owners Christopher Hilfiker and Allison Mayer opened Acanthus Cafe on East Avenue. They decided to close Living Room Cafe in June 2012 to concentrate on running Acanthus.
Comments:
Note: You must be logged in to add comments
---
2010-11-13 10:02:22 Very cute, friendly cafe on Monroe avenue near Jeremiah's. The desserts, coffee, and service are all excellent. Try the 5$ cheese cake special- 2 coffees and a slice of cheese cake, or share the french press pot with your friends for $6. The interior is a bit small, but on warmer days outside seating is available. Hope this place sticks around- it's a nice addition to the Upper Monroe neighborhood. —TrishHeckmann
---
2010-12-26 23:18:08 This is my favorite coffee house in all of Rochester. Besides being a nice atmosphere and a great addition to Upper Monroe, the owners are so friendly. The owner let me use the business line and even let me receive personal calls over it when I was trying to meet up with someone when my cell phone was lost. I really can't recall having such great service as I had at the Living Room Cafe. While talking to one of the owners, he also mentioned that they cater and do events! If I was putting on an event, I would feel very confident that they would do an amazing job! Also, I think the art work is fantastic! —KathrynRunyan
---
2011-03-16 13:21:33 Starry Nights used to be my "go to" coffee place, but this is my new favorite! It's very small, so I wouldn't go and expect to always find a place to sit/work but the coffee is amazing! AMAZING! I think they use only local/organic coffees, one of them being www.joebeancafe.com Everyone who works there is also super friendly! —AlisonBoncha
---
2011-05-21 15:24:27 Nice cafe with great coffee. The staff is so friendly and the prices are reasonable. I love the colors of the interior as well! A great addition to the neighborhood!
---
2011-06-17 18:31:41 i went for a long walk the other day and happened upon this place and im so glad i did! its small but inviting with delicious coffee and great staff! my walks will definitely be taking me in this direction more often! —sammieG
---
2012-06-18 22:41:25 Darn. I hope someone opens a new coffeehouse here soon. No neighborhood should be without a coffeehouse. —EileenF