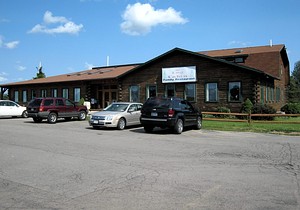 Log Cabin Restaurant 7-2008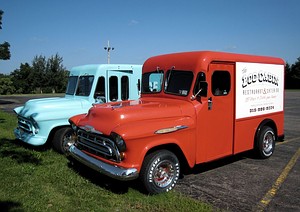 Vintage Truck at the Log Cabin 7-2008
Log Cabin Family Restaurant is a Macedon restaurant located just a few minutes East of Fairport. Casual country rustic decor. Simple diner menu, fast service. I think they still do a "hot rod night" during the summer months (anyone confirm?).
Comments:
Note: You must be logged in to add comments
---
---
2009-01-25 18:43:51 We went here for breakfast on Sunday. A bit off the beaten path but not a bad drive overall. I asked the server if they still do the hot rod night and she said yes. It starts up in the spring and they are on Wednesday night....sort of evolves organically without a definitive start date. So when the weather starts to break you'll start to see vintage cars, bikes and trucks. In addition to that they open up the deck and grill the food outside and also have a DJ. Sounds kinda fun.
The food was really nice. Well prepared and fresh. I had the french toast with pecans and hash browns, both were quite delicious. I expected the pecans on the side but was pleasantly surprised to see that they were added to the batter before cooking. I had a bit of whipped butter and warm honey served over the top and the hash browns were golden brown and cooked to perfection. My better half sampled pancakes, two eggs over easy, sausage, bacon, toast and coffee, all of which he was very pleased with.
A couple of things to note, the staff is very nice. They have good seating and all booths/tables are at least big enough for 4 ppl, none of those stupid little tables for two that feel crowded. Breakfast is always available. I would highly recommend this restaurant. Definitely worth the trip. —DDafoe