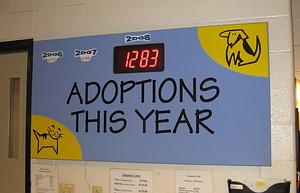 Help increase this number ! 3-2008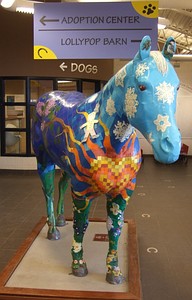 Flat Stanley in Rochester
Appointments are required. Please see https://www.lollypop.org/adopt/schedule-an-adoption-appointment/
ADMINISTRATION HOURS
Monday - Friday: 9:00AM to 5:00PM
Phone / Fax
585 223 1330 / 585 425 4183
Animal Cruelty/Law Enforcement:
585 223 6500 -24 Hour Hotline
Pet Peeves Behavior Help Line (FREE):
585 295 2999
Website
http://www.lollypop.org
Facebook
Flickr Photos
Twitter
Email
<info AT lollypop DOT org>
Lollypop Farm, the Humane Society of Greater Rochester, is a nonprofit organization committed to building lifelong bonds between people and animals through education, community outreach programs and the prevention of cruelty. Lollypop Farm offers many services and programs in support of this goal, including:

Animal adoptions


Volunteer opportunities


Dog training and obedience classes


Annual Barktober Fest, 5-mile run and walk


Educational tours


Lollypop Farm Camp for kids


Pet Assisted Therapy


Pet Pantry (food bank providing pet food)


Pet Peeves, Free Behavior Help Line (585) 295-2999


Senior-for-Seniors adoptions


Pets are Welcome (listings of landlords that allow pets)


SNIP (Spay/Neuter Incentive Program)


Animal cruelty investigations and law enforcement


Pet cremations and cemetery


Farm walk and petting area
The Farm Yard includes a Farm Walk and Petting Area, which are a great place to bring your children and grand-children to learn about animals and people caring about animals. As of July 2020, the Farm Walk and Petting Area remains closed due to the Covid pandemic. The shelter itself contains many educational exhibits about pets and farm animals for kids and adults alike.
Lollypop Farm is an open-admission animal shelter. This means that they will not turn away any pet based on age, health issues or injuries, behavioral problems, or aggression. As an open-admission shelter, they are able to provide shelter and care to animals who would otherwise have no safe refuge. In the Greater Rochester community, Lollypop Farm has the largest capacity for animal care and is the only organization to accept stray and unwanted pets of all species.
Awards
Won City Newspaper's 'Best of Rochester' Awards in 2011, 2012, 2013, 2014, 2015, 2016, 2017 and 2018.1
Related Links
*
Lollypop Farm Campus Tour
Comments:
Note: You must be logged in to add comments
---
2006-06-21 18:20:43 We got our first family dog from Lollypop Farm about 20 years ago when I was a kid. I have fond memories of spending an entire day looking at dogs and finally picking one out. Also in my memory is browsing around the farm and petting zoo while the rents filled out paperwork for the dog. Overall I'd say it made for a great day and probably one of my favorite childhood memories. Later my parents told me that my dog's mom was a stray and got killed by a car. Someone was able to save some of the puppies, which we got one of. He lived for about 12 or so years before he got sick and you know how that goes. —RickUrwin
---
2007-02-04 18:27:58 Lollypop Farm is an extremely conscientous and well-run animal shelter. I have volunteered there in the past and really appreciated my experience. It also helped me decide on a dog to adopt. They really do the very best they can, and they have a great selection of animals that need homes. If you're looking for a pet, I highly suggest going here before a breeder or (gasp!) a pet store. —IsaacVanDuyn
---
2007-07-21 14:32:33 ¡Encontré mi gato Scout a Lollypop! —McgMatt
---
2007-12-01 13:56:43 Great stop for the kids and grandchildren. One of the first requests of the grandchildren when they come to visit. Location:
WikiMapia Annotations —BradMandell
---
2008-03-15 14:48:19 If you can't give a pet a home, remember that donations of both money and useful goods like food, blankets, etc. are always welcome. They are also always looking for volunteers. We have adopted several four legged friends and they have all been wonderful additions to our lives. —DottieHoffmann
---
2008-07-01 20:43:21 Less than a month ago we adopted our second fur-baby from Lollypop Farm. Dakota (<3 y.o. Lab/Pit/? Mix) and Jasmine (>4 y.o. Rhodesian Ridgeback/Rottweiler/? Mix) are the most wonderful additions to our family that we could possibly imagine. They're both smart, lovable, and absolutely adorable companions to my husband and I. The place is clean and very well set up to accommodate casual browsing before you're ready to adopt with plenty of knowledgeable and caring staff to take care of you when you're ready to give someone a forever home. The support and resources we received when we decided to add Jasmine to our family was awesome in helping us make a smooth transition. With the outrageous number of homeless animals that can make perfectly suitable, loving pets, why NOT adopt? Both times we've been there folks have come in with boxes of old towels and soap and other stuff for donation, so don't feel like you can't help if you're not going to adopt, I believe there's a list of needs for the shelter on their website. —StephanieTodd
---
2009-08-11 20:52:20 In August, 2008 they held their BACK-TO-SCHOOL CAT ADOPTION SPECIAL! - ADOPTING OLD PAGE FROM ORPHANAGE —BradMandell