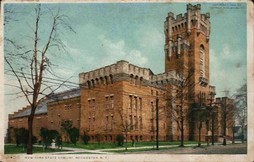 from
Vintage Views of Rochester.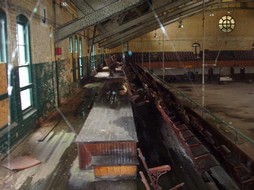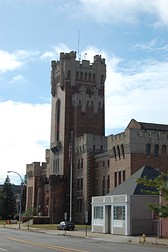 2010 - by Andrew88
The Main Street Armory was built in 1905 as a home and training facility for the National Guard in the days of the horse cavalry. The castle-like architecture makes the historic structure command East Main Street in the Marketview Heights neighborhood. Over the years as the military grew in sophistication the facility was abandoned by the government and fell into disrepair.
The building was purchased for $1000 in 2005 and began renovations before officially opening to the community in 2006. This beautiful and historic building serves as a venue for a variety of functions such as concerts, visual and performing arts, sports teams, corporate and community events, as well as a production location for film and video. It has facilities for serving food and drink.
The building owner is continuing work on the huge structure as money is available, and there are still some "rough edges" showing. The building is rented out to various promoters who arrange the individual events. In the past certain events have raised concerns about noise, parking, and disorderly patrons.
On March 5 three patrons were killed, and seven others hospitalized, in a stampede as the crowd exited following a concert. The city then cancelled the venue's entertainment license, after which the facility was quickly sold to a newly-formed limited liability corporation.1
Comments:
Note: You must be logged in to add comments
---
2005.06.10 - Walking by today while on a 4 hour walk, it is clear that the place is being repaired. The roof is being reshingled, windows have been repainted, and there were 4-6 workmen inside setting up equipment. I changed the name from "Abandoned Armory" to "The Armory" since, as you can tell, it's no longer abandoned -Far
2006.02.04 - The newly renovated Armory, now a concert hall, hosted its first event—a concert by alternative rockers
O.A.R. Early reports from
WHAM-TV show concerns from nearby residents regarding noise and crowds. The city is reportedly monitoring the parking situation and noise levels and will use this data as a determination in whether or not to renew the venue's entertainment license in one year. - Jason
2006-10-01 15:40:37 Picture of the interior:
http://www.flickr.com/photos/tobin/257878723/ —TobinFricke

---
2007-01-02 21:57:08 According to a recent article in the D&C, the armory will be the future home to the Rochester Raiders Arena Football team. —ScottHendler
---
2007-03-19 16:27:14 The Armory is now indeed the home of the Rochester Raiders indoor football team. It is a good venue for that, not a bad seat in the house —JasonPacheco
---
2009-10-24 03:09:56 Just got back from the Silversun Pickups show here. This place is awesome; it has an unrivaled atmosphere for concerts and shows. Had a fanstastic time. —JimGimbi