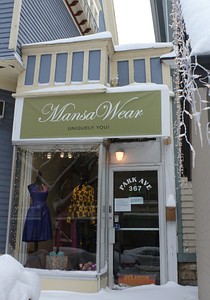 Location
367 Park Avenue, Rochester, NY 14607
Hours (as of December 2013)
Monday - Friday: 6:30PM to 8:30PM
Saturday: 11:00AM to 4:00PM
Sunday: 1:00PM to 5:00PM
Phone
585 305 8292
Wheelchair Accessible
No
Email
<nita AT mansawear DOT com>
Website
http://MansaWear.com
Facebook
MansaWear is the boutique and clothing line of local designer Nita Brown. Her work combines the styles of both the West and her native Ghana and uses 300-600 count cotton of the Woodin, basaan and KenteNouveau varietues. She works closely with Ghanaian manufacturers and employs seamstresses who use the free-cutting technique. She also does custom work.
Brown came to Rochester a decade ago to work for Eastman Kodak.
MansaWear launched in 2011. Her Park Avenue shop and studio debuted during the 2013 Park Avenue Holiday Open House.
Links
Comments:
Note: You must be logged in to add comments