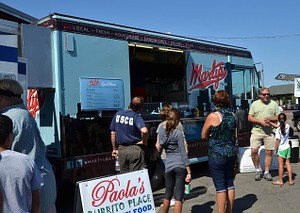 Marty's at the Public Market, September 2012
Location
At a street Corner near you
Hours (as of August 2012)
Info Needed
Phone
585 733 5884
Wheelchair Accessible
No (Café)
Alcohol
No
Email
<marty AT martysmeats DOT com>
Website
http://MartysMeats.com
Facebook
Marty's Meats is a café and food truck serving fresh, "protein-centric" soups, salads, and sandwiches made with local ingredients.
The food truck can be found at various places at various times - see the website for more information. The brick-and-mortar location on Park Avenue opened in May 2015.
In 2018 another food truck was started called Marty's Birdland serving chicken sandwiches and chicken and waffles. These items can also be found at the Park Avenue location.
Comments:
Note: You must be logged in to add comments
---
2019-03-12 12:52:51 Email bounces —sabrawood