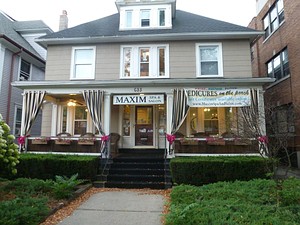 (Sept. 2012)
Location
633 Park Ave, Rochester NY, 14607
Hours (as of September 2012)
Monday - Friday: 10:00AM to 8:00PM
Saturday: 9:00AM to 5:00PM
Phone
585 256 0838
Alcohol
Yes
Wheelchair Accessible
No
Email
<frontdesk AT maximspaandsalon DOT com>
Website
http://MaximSpaAndSalon.com
Maxim is a salon and day spa on Park Avenue with a full range of services. Amenities include a library, overstuffed chairs, and beverages.
Comments:
Note: You must be logged in to add comments
---
2008-04-05 17:54:26 Great cozy & down to earth salon with top notch stylists. Try Rachele if you're looking for a younger stylist with experience beyond her years who's great at achieving fresh new hairstyles. Or try Toni an all around talent & one of the best hairstylists Rochester has to offer. —KbcRochester

---
2008-05-09 15:09:53 Great location. Excellent place for spa services (including massage), hair and nails. Jennae and Katie are outstanding.
I will confess that some days it feels like a hen house. Simply too crowded and too much yelling. But on the other hand, great service if you don't mind the ambience. —SmitaRao