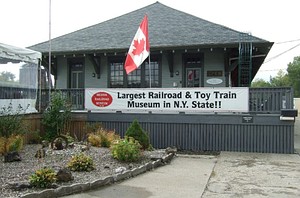 Photo Sep 2008 - BradMandell
Medina Railroad Museum is a museum dedicated to railroads. Located about an hour west of Rochester in the town of Medina.
"Located in the old New York Central freight depot in Medina, NY, the Medina Railroad Museum is the largest freight depot museum in the country. The building itself was built in 1905, and is one of the largest (301ft. by 34ft.), last surviving wooden freight depots in the United States.

Featuring the largest collection of artifacts and memorabilia known to exist under one roof. Also see the longest HO scale layout and diorama all on one floor, an immense 14ft. by 204ft, currently under construction."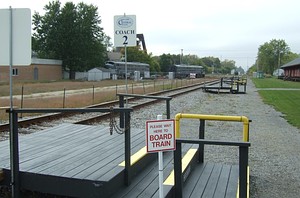 Photo Sep 2008 - BradMandell
Museum is a boarding location for the
FALLS BRANCH RAILROAD AND THE ERIE CANAL EXCURSION TRAIN -

"Relax and enjoy a leisurely 34-mi. round trip (2 hour) ride through the scenic Erie Canal Heritage Corridor aboard comfortable vintage 1947 Budd passenger coaches."


See Videos on YouTube
For those with children or grandchildren, the Museum has hosted a
Thomas the Train Event each spring. See
Thomas FAQ
Photos

Comments:
Note: You must be logged in to add comments
---
2010-01-31 22:42:56 I've been here twice in the past year - once with my son, and a second time in the Fall, with my whole family, when we went on an excursion train. The museum is very well done, and the owner is extremely friendly. I was highly pleased with both visits. The model train layout is beyond amazing - highly recommended, even if you're not a train buff. —RichMulvey
---
2010-03-06 19:23:27 Went there today, they need to add some sort of information to the exhibits. They have everything laid out but nothing to explain it and no staff to do it either. Lots of interesting stuff, I just don't know anything about it. Not worth the trip till they do that in my opinion. —DamianKumor