Location
285 Medley Centre Pwky, Rochester NY 14622
Wikipedia
Medley_Centre
Medley Centre was a mall located between Route 104 and East Ridge Road just west of Interstate 590. It was originally known as Irondequoit Mall when it opened in 1990. As of late 2009 the mall was to get a new name - Lakeridge Centre. 1 See full History below.
As of April 2010, the enclosed mall between the stores was closed, leaving only 2 of the anchor stores (Sears and Macy's) operating. Since then the larger site has been awaiting development and has become the subject of much political discussion regarding public financial incentives given to the developer. In 2014, things went more downhill for the Medley Centre. Macy's decided to close their store 2 and a water pipe burst 3, flooding parts of the mall. The final store Sears decided to close in 2016.
Awards
Voted "Best Local Eyesore" in City Newspaper's 'Best of Rochester' Awards in 2015.4
History
Early Years
Medley Centre began life as Irondequoit Mall, located along the busy Route 104 corridor on the northeast side of Rochester. It was Rochester's latest traditional enclosed mall, built by the omnipresent local retail developer Wilmorite, opening for business in 1990. The mall offered area residents its first fully two-story mall, designed to offer lots of wide open space with natural light coming from its massive glass roof. A showcase carousel, visible from the highway, offered rides to children while parents relaxed in the adjacent food court. At the time, Irondequoit Mall targeted residents in the northeastern city and the growing east-side suburbs of Webster, Irondequoit, and Penfield. The mall also attracted attention from the wealthier suburbs Brighton and Pittsford which divided their shopping attention between the then-dreary and outdated Eastview Mall in Victor and Marketplace Mall in Henrietta.

It opened with great fanfare with original anchor stores Sears, JC Penney, Sibley's, and McCurdy's, and all the usual national chains that turn up at malls. Irondequoit Mall was late to the area mall party, but established itself as a popular shopping destination, especially for those who disliked the extensive walking required to navigate other area malls which sprawled on and on with their single story designs.

As the 1990's progressed, significant changes occurred in the department store business model that existed for nearly 100 years. Smaller, regionally-based, family-owned department store chains began to be consolidated by a national wave of mergers. In Rochester, Sibley's was the first to go, selling its entire chain of stores to the May Department Stores, based in Pittsburgh, which rechristened Sibley's under their Kaufmann's store brand. (May itself would later be absorbed into the enormous Federated Department Stores, owner of Macy's among many other super-regional chains, in 1995.)

Very soon thereafter, the McCurdy family saw the writing on the wall and sold their entire chain of stores to Bon-Ton of York, Pennsylvania which operated as a regional chain across the northeastern states.

At the same time, the growing income of residents in eastern Monroe County, and the tremendous growth occurring in nearby Ontario County due to suburban sprawl meant it was time to take another look at the then-aging Eastview Mall, located just across the Monroe-Ontario county line. It had not seen a major overhaul since the 1970's, right down to the avocado green wall-to-wall carpeting and the burnt orange accents. Ironically, the downfall of Irondequoit Mall would come primarily from the actions of Wilmorite itself, which also managed Eastview Mall.

The Declining Years
It wasn't just one factor which would put Irondequoit Mall into the category of a "dead mall." Several factors conspired to bring down the area's youngest mall in just a few short years.

The most important was the aforementioned redevelopment, expansion, and reopening of Eastview Mall, which has attracted premium upscale retailers, a healthy occupancy level, and operates in an area perceived as low crime and a safe destination day or night. Eastview immediately drained Irondequoit Mall's largest percentage of customers from the eastern side of Monroe County, especially Brighton and Pittsford. Wilmorite succeeded, perhaps too well, in its efforts to reintroduce Rochester to Eastview Mall.

At the same time, a demographic shift in customers shopping at Irondequoit began to play on latent fears some shoppers had about Irondequoit Mall and those who frequented it. Midtown Plaza, the nation's first traditional mall, was already relegated to the "dead mall" category. Shoppers from the city of Rochester defected from Midtown, with many northside residents now turning to Irondequoit Mall, which has plenty of free parking and frequent bus service. Rochester's vibrant Latino community adopted Irondequoit Mall as a popular destination as well. That Spanish was now being spoken openly and frequently at the mall concerned more than one of the sheltered suburbanites I overheard in my very frequent visits to the mall at the time. Groups of younger people loitering around the mall and its parking lots didn't help the image much either. A whisper campaign about the mall and its shoppers began.

Soon, the urban legend that Irondequoit Mall was a "high crime" area with shoppers being harassed by gangs and car theft rings operating openly would eventually reach the local press. Rumors of a rape in the parking lot even surfaced. That none of this was actually true didn't seem to matter, despite Wilmorite's efforts to beef up security, launch a public relations effort to reassure customers, establish a code of conduct, and several positive articles in the same press that reported earlier "concerns." Once a perception is established, even if disproved, many customers end up staying away with a shrug of the shoulders and a dismissive, "why take a chance?"

In truth, Irondequoit Mall never suffered the crime rate or the problems that the urban legend proffered.

As customers fled, so did the retailers, starting with the national chains operating smaller stores in the mall. At first, the defections were manageable, but as Eastview gained more and more prominence, what began as a trickle soon became a flood, especially with the announcement that JCPenney was leaving in 2003. By the time the fixtures and displays were liquidated at JCPenney, Irondequoit Mall had now firmly been established as a dead mall, with a 20% occupancy rate.

By early 2005, it was possible to spend an hour power walking the first floor of Irondequoit Mall and literally pass not a single customer. Bored employees routinely brought paperbacks to read, mall security coffee-klatched with the maintenance workers, and the mall was literally populated with more store employees than shoppers. The only "regulars" tended to be mall walkers.

The writing was on the wall. In that year, Wilmorite abandoned Irondequoit Mall, putting the property up for sale.
The Bersin Phase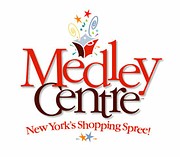 Company Logo
In 2005, Adam Bersin, an optimistic Syracuse developer, purchased Irondequoit Mall from Wilmorite for five million dollars and a 15 year tax break incentive provided by the town or Irondequoit. In return, Bersin promised to infuse $44 million into a full renovation.

Bersin rechristened the mall, thus ending the short history of Irondequoit Mall and opening a new chapter under its new name Medley Centre. As of the spring of 2007, Medley Centre had managed some small victories, replacing the JCPenney anchor store shell with Steve & Barry's, a sporting apparel store unique to the area. An indoor soft playground on the first level became a modest success as well, providing hours of entertainment to children for a $2 entry fee good for the entire day, all under the watchful eyes of mall security and staff.

Small, family-owned stores managed to survive in locations formerly occupied by large corporate-owned chain stores, usually with a sign plastered over the the earlier occupant's name. Apparel and shoes targeting younger customers were the most successful, and some eclectic, independently owned, businesses managed to hang on for a few years as well. Mall activity picked-up around the Christmas shopping season, when some temporary merchants moved in.

Some special events managed some success in attracting foot traffic. In October 2006, a Halloween "haunted house" and exhibit made from tens of thousands of balloons attracted long lines to a mall wing dedicated to the exhibit, which charged an entry fee. The event has moved to Greece Ridge Mall for the 2008 season.

On February 3, 2006 a Target began construction in the mall's parking lot. It was never clear to many whether the Target would attract customers to the mall or just draw them away.

But along with the small victories came new challenges - starting with the spring 2007 announcement that Bon Ton was throwing in the towel on the location because of low sales. That left only two traditional anchor stores, Sears and Macy's (formerly Kaufmann's).

Mall occupancy remained dismal, with the vast majority of storefronts either empty or filled with tenants serving no retail function. Among the latter have been a dog obedience school, model train and racing car tracks, a "summer camp," a little-used storefront for Irondequoit town groups and functions, an English for Speakers of Other Languages resource center, and a security guard employment/travel agency (in the same storefront). Many of the retail apparel stores serve as clearance/outlet centers.

Mall signage remained a problem, with a woefully outdated mall directory that promised an optimistic shopping experience for visiting shoppers who rapidly become bewildered by the sea of empty stores, accompanied by lit advertising messages that seem trapped in time back to 2002, not long after 9/11, with patriotic public service announcements. Stores that closed years ago still have signs which seem to indicate the closing was recent, and some of the anchor stores dumped their stock and fixtures into nearby store locations, hidden with blue plastic sheeting or with nothing at all.

Medley Centre's upkeep through the challenges were visible - the mall's live plants remained well-cared for, efforts to cope with the leaking high glass roof were ongoing and moderately successful, the floors were kept clean, and several entrances were rebuilt and improved. Mall employee turnover seemed modest as well, with many of the same faces still there month after month. The mall parking lot was kept in good repair, and mall security vehicles payed careful attention to making the lot is safe and secure.

The employees and staff at the mall remained friendly and helpful, despite the challenges they confronted (ranging from extreme boredom to possible unemployment if Bersin could not pull this one off.)

Controversial changes surrounding the food court and mall traffic in general caused some resentment among the mall's remaining loyal visitors. Since the mall opened, the food court, especially during the day, was a gathering place for retired locals who literally spend hours sitting and visiting with their friends. Chess and card games were a common site to help pass the time. Frequently the only people in the food court, they were surprised to learn that a policy change now prohibited chess and card games during regular mall hours. The policy change, attributed to Bersin, came as a result of his efforts to make the mall's appearance more conducive to a "family friendly shopping experience." This raised some controversy in the local press, but came as part of a broader effort to control loitering in the mall, particularly by younger people.

At times, large groups of youth would spend time at the mall meeting with friends and talking, and occasionally interacting (positively or negatively) with shoppers. Mall security tried to make a special effort to keep Medley Centre from being a social club. Individuals that repeatedly violated the mall's rules of conduct were banned, but this was not an issue unique to Medley Centre.

Mall walkers remained the most commonly visible people at Medley Centre, and their presence at the very least promoted a sense that the place was not completely empty. Bersin's continued acceptance of this group, which seems to try hard not to get in the way of ordinary mall shoppers, was a net positive.

The changing landscape of retail created some special challenges for many malls across the nation similar to what Irondequoit Mall/Medley Centre faced. In some areas, a mixed retail/commercial approach has been successful, with doctor's offices next to shoe stores, or private businesses occupying one wing of a former mall with traditional retailers occupying the rest. Some malls have even managed to become indoor parks/community centers. Some have churches within them. Others have left their anchor stores intact while tearing down the rest of the indoor mall, replacing it with green space or a strip/outdoor mall format. And some have been obliterated altogether.

Bersin could not meet the biggest challenge - driving traffic into the mall space. Proposals to bring important town services such as a branch of the town library did not materialize. Non-traditional mall retailers survived the challenges of the mall's past but could not save the mall or make it economically viable. Having a Target in the parking lot did nothing to improve traffic. In late 2007 Steve and Barry announced the closing of their operation at Medley Centre. Bersin sold the property to Scott R. Congel of mall developer The Pyramid Cos. from Syracuse.
The Congel Phase
During the Congel Phase Macy's and Sears decided to close their stores, leaving the mall without any anchor stores and no tenants.
August 22, 2008 Article - "Future uncertain for Irondequoit's Medley Centre" and Discussions on DemocratAndChronicle.com. Some Items:


"An agreement also has been filed in the County Clerk's Office to lease a 66,000-square-foot Regal movie theater on the mall's main level, plus a mezzanine. That paperwork does not mention what would happen to the 16-screen Regal Culver Ridge theater, less than half a mile east of the mall in the Culver Ridge Plaza."


The current owner, SRC, has acquired adjacent properties (some apparently also from Bersin) - appears SRC is negotiating with the town over tax breaks before we will know more about possible plans to redevelop the property into condos, restaurants, and street-level shopping.


According to Irondequoit officials - "The developers have demolition permits for portions of the mall and properties adjacent to the mall."

An April 21, 2010 Article on WHAM 13 News revealed that the plan for redevelopment is moving ahead, but scaled back.


"the plans still include a mix of stores, office space, hotels and restaurants. ... several tenants have signed leases, including 25 stores and two restaurants and hotels. ... the design layout has been changed and some stores repositioned. ... the interior of the mall near the old food court will be renovated to replace floors, lighting and other features. The Penneys store will be torn down to make room for one of the hotels. ... some prospective tenants are stores not in any local mall; some are stores unique to New York State. She said the plans should begin taking shape in the next one to two years."
Resources
Comments:
Note: You must be logged in to add comments
---
2007-04-09 14:52:12 I really hope this mall becomes popular again. IMHO this is the nicest looking mall in the Rochester area, the amount of high skylights are great, probably the best place in Rochester to get some sunshine when the outside weather is too rough to bear. —TravisOwens
---
2007-08-30 10:37:12 I hope that Congel can breath light into this mall again, I believe that the only way this mall will see popularity is if Congel can bring one a kind, new stores to the Rochester area. The only way to do that would be to make it a state of the art facility that retailers flock to. It has worked in Buffalo, Syracuse, and Albany for the Pyramid company, why not here? Crossgates Mall, Carousel Mall, and Walden Galleria are in some of the poorest areas of their cities, yet they are the premier malls of the area.
Right now, no visitor to Rochester should even bother stopping at the Medley Centre. The mall only serves those that live around it and cannot afford to drive to our 3 other malls. —MrRochester

---
2007-12-09 23:10:07 Even Midtown has a smaller vacancy rate than this place. —ThomasPawlik
---
2007-12-12 00:27:05 The above description says there incidence of crime was an urban legend. Maybe, maybe not. I visited there three times during this era of the mall. The third time I watched about 30 high school kids brawl next to the food area. 6 months later my buddy got a car window broken there. Neither of us have had a similar experience at any of the other malls in the area. Neither of us made a call to the police about it but both of us did stop going there. Not everyone who stopped going there did so because they "didn't like the looks of the crowd." (I still go to Marketplace, Eastview and Midtown—never really get out to Greece.) —BadFish
---
2007-12-12 12:50:48 Well, I used to work at Irondequoit Mall and we used to have a great time watching the security guards take down shoplifters that tried to run for it out of the department stores. Can't get any more entertaining than that. However, I never felt in danger. —SaraChristine
---
2007-12-12 14:09:07 Yeah, it didn't feel dangerous, I just tend not to bother going to businesses that seem to have more fights and car break ins than other businesses. —BadFish
---
2007-12-26 09:37:06 Talk about a one-sided biased article! The report of crime and violence is no "urban legend" at Medley Center. As much as I would love to see this mall recover, the only way this can happen is if those involved accept the fact that security is an issue.
I have seen gang brawls, shoplifter apprehensions, and various bouts of violence there. The ominous presence of young hoods doesn't help.
Although it is considered "progressive" or "enlightened" to deny the violence and blight that has enguled the northeast of Rochester and the strip of Irondequoit adjacent to Rt 104, it is high time we accept the fact that this is a problem and needs a solution.
The city of Rochester has finally acknowledged the gang problem, and I only hope that this didn't come too late to save the city. Medley Center needs to do the same regarding the real elements that keep shoppers away - and not be apologetic about it. —JackPorcello

---
2007-12-26 11:47:11 I'm not familiar enough with Medley Center to say first hand whether the crime is real or perceived. In fact, I was last there in 1999. That's beside the point, however. Much like the city, it doesn't matter whether the crime is real or perceived. A perception of crime has much the same effect as actual crime: people stay away. —JasonHaremza
---
2009-01-18 01:23:35 While the heart of the mall is now closed for the redevelopment project, it's worth noting that Sears and Macy's will remain open. —BrettDaly
---
2009-09-23 13:00:43 I heard Wegmans is going to buy the mall and turn it into a superstore —sub619
---
2010-04-23 15:17:14 Called to find out when stores could move in or Mall would open - person answering at the number above did not know. Asked about a lease, said call SRC Developers in Syracuse 315-471-8940. —JackGreenky
---
2011-11-23 17:31:10 This is a review originally posted on Yelp:
The "mall" itself is now closed, and only 2 of the original anchor stores are still operating. Some developer has grandiose plans to make this into some sort of 'destination', complete with a 25 story hotel. Of course, this will be only possible with handout money and tax breaks from the county....