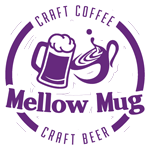 Location
616A Pittsford-Victor Rd, Pittsford, NY 14534
Hours (as of September 2015)
Monday - Thursday: 7:00AM to 7:00PM
Friday - Saturday: 7:00AM to 10:00PM
Sunday: 7:00AM to 7:00PM
Phone
585 249 9310
Wheelchair Accessible
No
Alcohol
Yes
Website
Facebook
Mellow Mug is a coffeehouse and cafe at Bushnell's Basin serving Glen Edith and Finger Lakes brews. Pour-over and French press available, as well as several seasonal drinks, including a Maple Latte made with real New York syrup.. They also carry craft beer and wine, and serve sandwiches, wraps, paninis, salads, and breakfast. The Roc Roll is basically the Garbage Plate in wrap form.
In warmer months, Mellow Mug offers outdoor seating on their second-floor deck overlooking the canal. Tuesdays are Open Mic nights. Mellow Mug also hosts live music.
They also do catering and delivery.
Mellow Mug was previously Basin Bean. They reopened under new ownership in February 2015.
Comments:
Note: You must be logged in to add comments