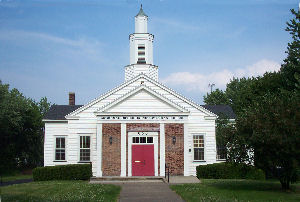 Memorial Orthodox Presbyterian Church is reformed in doctrine, Presbyterian in government, and subscribes to the
Westminster Confession of Faith and
Larger and
Shorter Catechisms.
The church holds that...

The Primacy of God's Inerrant Word


The Preaching of God's Sovereign Grace in Christ


Growth in the Knowledge of God's Truth


Growth in the Practice of God's Truth


Reverent God-Centered Worship


Love for One Another

...so that its members might glorify God and enjoy Him forever.
Assisted listening devices are available, and the facilities have a lift and a handicapped accessible restroom on the upper level.
Memorial OPC is affiliated with the
Orthodox Presbyterian Church (OPC)
Comments:
Note: You must be logged in to add comments