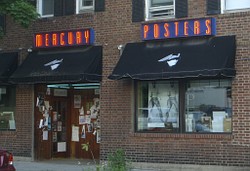 Mercury Posters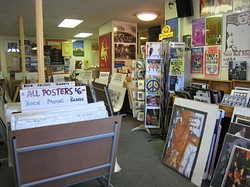 Inside Mercury Posters 2-2008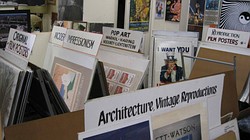 Some of the Types of Posters Offered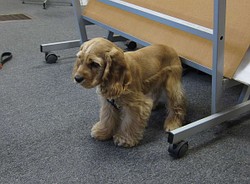 Louie, New Shop Dog at Mercury, 5-2011
Former Location
1 Sumner Park, Rochester NY 14607
Mercury Posters is a poster and art print shop in Rochester, NY just off Monroe Avenue, near Starbucks and Plum House Japanese. Serving the Rochester community for almost twenty years, Mercury Posters carries a wide variety of new and vintage posters, artwork, postcards and the like. Traditional framing service is available, as well as several options for Plak-mount. The available graphics cover a wide field, from contemporary movie and music posters to very vintage domestic and foreign offerings.

Mercury Posters is owned by Jim Malley, son of the gentleman who used to own the Highland Park Diner (Bob Malley). The Malley family also used to run Donuts Delite at Culver Road and Norton. Needless to say, the Malley family is very involved and passionate about the Rochester community. Jim even carries some products from other Rochester companies such as Letterpress, an art/print company. Jim is almost always there, knows his stuff, and is fun to talk to. Jim also occasionally purchases interesting collections of vintage poster art. When you visit, say hello to the birds, Lucy and Rocky.
They closed in July 2012 after twelve years in business.
Comments:
Note: You must be logged in to add comments
---
2007-06-18 23:07:09 Good selection of vintage, pop art & celebrity/ music posters. He also does mounting and framing. Good for bleak walls in apartments and dorm rooms. —TomNichols
---
2007-08-26 15:51:14 The owner, Jim Malley, is a great guy and is very knowledgeable... if you are looking for anything specific he probably knows where to find it. It can be hard to find things in the crowded shop, if you have specific favorite genre/artist/style etc be sure to talk to him. His prices always seem reasonable and he's done a great job with framing/mounting for us dozens of times. —DottieHoffmann
---
2008-05-01 11:03:45 Jim has a great shop, but it is a very unorganized. If you need help, just ask, in fact dont try on your own, just ask when you walk in.
I bought some great posters there and he did a really nice job framing some posters for me as well. —MrRochester

---
2009-09-21 12:02:35 Only place I go for framing or when looking for unusual or vintage posters. He found a poster of the Marilyn Monroe Movie Niagara. I had looked for this poster for about a year. Jim got it for me and framed it beautifully for me. No need to go anywhere else and I don't! —NewtonNola
---
2012-07-17 13:32:18 After decades of service Jim closed the shop in June 2012. MP will be greatly missed! —peteraflcio