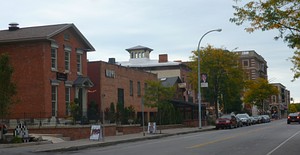 The Upper East End portion of Alexander St. (Sept. 2012)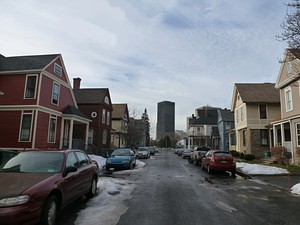 View of downtown from Canfield Place. (Jan. 2013)
Monroe/Alexander, also called the Alexander Neighborhood, is an active area overlapping with parts of Monroe Village, the Neighborhood of the Arts, and the Upper East End. It is also considered to be part of downtown. Alexander Street itself is lined with an eclectic mixture of Victorian-era homes converted to apartments, professional offices, and commercial spaces. Notable buildings include the East End Apartments, the Medical Arts Building, the Hiram Sibley Building, and The Grand Alexander. Rents vary quite a bit from relatively cheap to the moderately high-end.
The neighborhood also includes some small residential streets, most of them dead-end, running between Alexander and the Inner Loop. These are quiet and out of the way, yet conveniently located within walking distance of some of Rochester's best hot spots. They are also loaded with curb appeal and architectural character. Lafayette Park even has a grass mall similar to those of Oxford Street and Arnold Park.
Alexander Park is currently active site of redevelopment. The portion of Alexander on the other side of East Main is considered one of the nicer areas of Marketview Heights. Anderson Park is a tiny, leftover green space from the pre-Inner Loop era.
Establishments
Showing mostly Alexander Street and businesses not located within another neighborhood's boundaries as well. See also: Monroe Village, NOTA, and the East End.
Food and Entertainment
Others
Comments:
Note: You must be logged in to add comments