The Monroe County Library System is a federation of 20 independent public libraries located in Monroe County, New York. The system, one of 23 public library systems in New York State, was chartered by the state Board of Regents in 1954 to provide services to public libraries and to provide library services to those with special needs within the County.
Member libraries are located in Brighton, Brockport, Chili, East Rochester, Fairport, Gates, Greece, Irondequoit, Hamlin, Henrietta, Mendon (Honeoye Falls), Ogden, Parma (Hilton), Penfield, Pittsford, Riga (Churchville), Rush, Scottsville, Webster and the City of Rochester. The Central Library of the Monroe County Library System, located in downtown Rochester, as well as all branches within city limits, are collectively referred to as the Rochester Public Library.
Each library is responsible for providing library services to its local service area. Libraries are governed by their own boards of trustees and are funded by local taxes.
Services provided by the Monroe County Library System are funded by New York State and the County of Monroe and include: computerized circulation, database development, technical services, outreach/extension, shipping and delivery, consultant and advisory service, selection and purchasing lists, promotions, administration (grants, communications, etc.) reference and information referral, interlibrary loan, Internet access, online public access catalog and other electronic services via the LIBRA network. Most of the above services are provided under a contract with the Central Library in downtown Rochester and Monroe County.
The Monroe County Library System is governed by an 11-member board of trustees appointed by the County Legislature.
Source
List of Member Libraries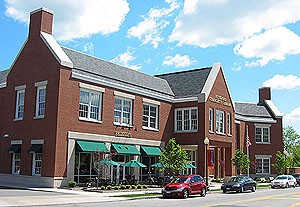 Pittsford Community Library

Brighton Memorial Library
Comments:
Note: You must be logged in to add comments