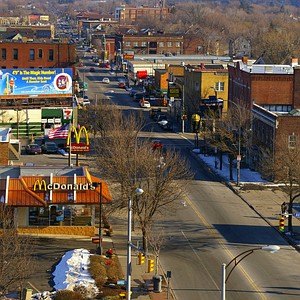 Elevated view. Photo by
Yoshi.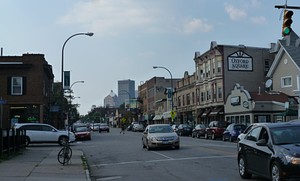 View near Oxford Street.
Introduction
Monroe Village is an eclectic portion of Monroe Avenue in the City of Rochester. It is one of Upstate New York's biggest and most vibrant pedestrian-oriented urban villages, comparable to Park Avenue and the South Wedge, Westcott Street and Eastwood in Syracuse, Lark Street in Albany, and Elmwood Village and North Buffalo in Buffalo. Monroe Village retains much of what is advantageous and positive about city life, such as diversity and a wide variety of shops and services within easy walking distance of residential streets. When Rochesterians refer to "Monroe Avenue," they are usually talking about Monroe Village.
Monroe Village is probably Rochester's funkiest neighborhood. Located in close proximity to both Park Avenue and the East End, Monroe Village after dark is a nightlife district with a casual, laid-back atmosphere. Lined with bars and independent restaurants, it is very much the place to go if you prefer jeans and t-shirts to dresses and clubwear. The Bug Jar in particular has been a Rochester institution for the past twenty-five years. By day, Monroe Village is a true indie shopping destination, with unique stores selling everything from antiques to trendy clothing to fair trade goods.
Monroe Village is also a vital part of several overlapping neighborhoods. The area surrounding its westernmost tip is known as Wadsworth Square. Pearl-Meigs-Monroe refers to the residential streets encircled by Monroe, Broadway, and I-490. The intersection of Monroe and Alexander is part of Alexander Neighborhood, which connects Monroe Village to the East End. Going east, Monroe Avenue crosses I-490 and forms the quieter, suburban-style Upper Monroe neighborhood. Monroe Avenue then continues into Brighton and eventually terminates at the intersection with Main Street in Pittsford.
Neighborhood Association
The neighborhood association is the Monroe Village Task Force, which is made up of six smaller associations: Harper-Wilmer, Lock 66, Park-Meigs, Pearl-Meigs-Monroe, Priem-Linwood, and Wadsworth Square. The Task Force also includes the Monroe Avenue Merchant's Association; the
South East Area Coalition (SEAC); South East Arts Development, Inc. (SEAD); Genesee Center for the Arts and Education; NBN Sector 7; the NET Office; and representatives from the City Department of Community Development and the Department of Economic Development.
Revitalization
Recent revitalization efforts have seen a number of organizations come together under the umbrella group of the Monroe Village Task Force. There has been public investment in the sidewalk improvements at the Monroe-Boardman-Wilmer intersection and private investment in the former Genesee Hospital site, now known as Alexander Park. A new Rite Aid and the associated restoration of the front portion of the historic Monroe Theatre were completed in the late 2000s. The Monroe Village Farmers' Market was introduced in 2008. 2011 saw the completion of the prominent EarthLink headquarters.
In December 2014 the rehabilitation of the Button Lofts was completed, adding high-end residential units and additional retail space to the neighborhood.
Festivals
Both Monroe Village and Upper Monroe share two annual festivals. The Show on Monroe is held each June to showcase the Avenue's eclectic culture and businesses. September's Monroe Village Harvest Fest serves as a fundraiser for several neighborhood programs.
Establishments
Auto
Barbershops and Salons
Bars
Community
Grocery and Convenience
Pawn Shops
Restaurants
Retail
Services
Other
Links
Comments:
Note: You must be logged in to add comments