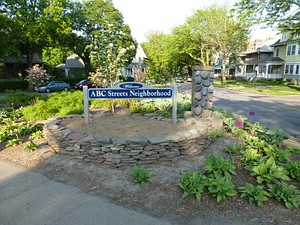 James Morrison Park is a tiny park - more of a large garden - on a triangular island surrounded by Culver, Canterbury, and Harvard Streets. It marks the entry to the ABC Streets Neighborhood and is maintained by the ABC Streets Neighborhood Association.
History
Morrison Park appears in the City of Rochester Parks Directory for the first time in 1913. Its namesake is believed to have passed away in 1911. Unfortunately, little is known about James Morrison.
In 1975 the park underwent a redesign and was rededicated by Mayor Ryan. It was
revitalized in 2010 with the help of the landscape design firm Zaretsky & Associates. New dogwood and American elm trees were planted, along with hydrangea and forsythia bushes, while local artist Dick Lubey, assisted by Mary Nicosia, painted the control box to resemble a cobblestone column. The sign welcoming visitors to the neighborhood was installed in 2012.
References
Comments:
Note: You must be logged in to add comments