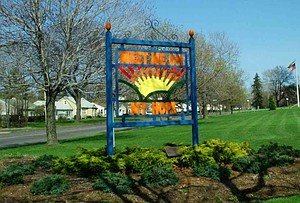 Meet Me On Mt. Hope
Mt. Hope Avenue is a city road that is part of Route 15. It originates on the outskirts of downtown and passes through the South Wedge and Lilac neighborhoods. Mt. Hope is best known for bordering Mount Hope Cemetery and forming the bustling backbone of the Upper Mount Hope neighborhood. Once over I-390, it enters the suburb of Brighton and becomes West Henrietta Road.
Mt. Hope also has a strong connection to the University of Rochester, being the site of both its Mount Hope Campus and College Town and offering easy access to both the River Campus and Medical Center.
Note to bicyclists: Mt. Hope Avenue south of Elmwood Avenue is not a bike-friendly street. It has no shoulder, multiple lanes, and heavy traffic that travels at high speeds. A much better alternative is South Avenue, which runs roughly parallel to the entire length of Mt. Hope and has bike lanes in several places. If you are approaching from the River Campus, it is recommended that you travel down Kendrick Road, turn east on Lattimore Road or Westmoreland Drive, and cut through the residential streets that run between Mt. Hope and Castleman. Take East Boulevard to Elmwood then north on Mt. Hope from there.
Located on Mt. Hope Avenue
Traveling south from Bryon Street to I-390
South Wedge
Mostly light industrial buildings and large apartment complexes. This portion runs close to the Genesee River. Important intersections are Alexander Street, Gregory Street, and Ford Street.
Lilac Neighborhood
Dominated by the cemetery. Most of the Mount Hope Campus is located here. Intersects with Highland Avenue. Gold Street Lofts on Mt. Hope is a proposed student housing development.
Upper Mount Hope
Currently (2014) a site of major redevelopment. Vibrant, walkable and generally catering to students and employees of UR. Important intersections are Elmwood Avenue, Crittenden Boulevard, East Henrietta Road, and Westfall Road.
See Also
Comments:
Note: You must be logged in to add comments