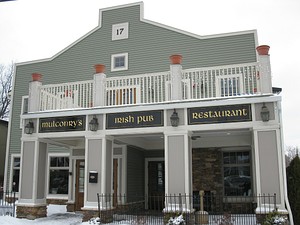 Photo, Feb 2010, BradMandell
Location
17 Lift Bridge Lane, Fairport, NY 14450
Hours
Daily: 11:30AM to 2:00AM
Phone
585 678 4516
Accessible
Yes, there is an upstairs however
Alcohol
Yes
Email
<damien AT mulrconrys DOT com>
Website
http://www.Mulconrys.com/
Mulconry's is an Irish pub & restaurant in the Village of Fairport. The menu contains a lot of American favorites, and includes a section of traditional Irish fare. Website is currently just a marker & will hopefully be updated shortly.
Comments:
Note: You must be logged in to add comments
---
2008-06-12 08:02:54 Excellent new addition to Rochester's Irish restaurant scene. Very traditional menu with Americanized pub food thrown in. Beer list is weak for a pub, but all of your standards are there. The corn beef is done well. Also the bangers and mash are great, but do not expect an English version of bangers and mash here. On a nice night the upstairs outdoor seating is a must. The inside dining room is warm and reminds me of a real pub. The service unfortunately seems to be the only weak area of the restaurant. I've gone several times and the service seems to be getting worse with every visit. I had my dinner and beer taken away before I finished them. I tried to tell the waitress that I was not finished, but she ignored me completely and cleared the table. When I approached the server on this subject she told me that I told her yes. My fellow diners laughed because an Irishman will never agree to his food or beer taken away before he is finished. She did offer me dessert and I declined but asked for a half pint. She agreed without hesitation, but then before I could finish that pint she took it, stuffed garbage in it and walked away without ever asking me if I was finished with it. At this point I decided I needed to find the manager so this behavior did not continue for other people. Nice enough gentleman from Cork who offered me a Guinness for the situation, but he seemed to side with the server. I did not want or expect money back, but a sincere apology would have been nice. Maybe If I do go back I am going to have a tight grip on my Guinness at all times. —Chef

---
2008-07-08 18:26:23 Been there twice now. First time the Caesar salad with steak disappointed. Steak was passable at best, salad pretty bland. Wife loved the Citrus salad. Nice looking crowd and pretty brisk traffic for a week night.
Returned last night. Wife had same thing (Citrus salad) and she loved it again. I had the chicken sandwich on sourdough with pesto and blue cheese. It was unbelievable. A little on the small side but so rich and flavorful who cares? Service was a mixed bag. First time good last night dismal.
Overall, definitely worth checking out. It will become one of our staples in Fairport. Nice vibe, good looking crowd and if you order the right items you will be very happy. —wdrazek

---
2008-08-20 17:37:37 Had a burger and wings here with friends and both were excellent. The interior is very nice and the place looks great. They have all the usual bar foods and a large Irish food section. So-so beer selection, with lots of Irish staple beers. —MrRochester
---
2010-04-10 19:24:47 I went there this week.Everything was wonderful. My husband and I shared a rueben and a shepards pie. The food was unbelievable! The service was great as well. Our waitress was happy,funny, friendly and informative. She overall added a great vibe to our evening.We can't wait to come in again with our friends. =) —MarieAndrews
---
2010-05-23 02:03:03 Went there tonight with a group of 4 total people and will not be going back. We were seated at a table that was way too small for a group of four. Two people ordered iced tea and were disappointed to find out that the tea had obviously been brewed in a coffee pot since both agreed it had a very overpowering coffee taste. Our waitress was friendly and nice and was quick to bring replacement drinks (water). Two people had soda and the waitress brought refills quickly without being asked but left the empty glasses on the table and this quickly became a problem since there was hardly enough room for 4 plates and silverware. I ordered the veggie potato pancakes thinking it would be a healthy option but it came covered in so much cheese sauce that it was literally swimming in it. The vegetables had a weird taste that made me think they were used a few days past their prime and the cheese sauce most likely had (way too much) artificial smoke flavoring added that at first made it taste 'odd' as my friend put it, and then the taste built up to the point where it was simply disgusting and made the entire plate of food inedible. —bjybjy
---
2010-12-27 01:35:45 Not too familiar with Irish restaurants or cuisine, but the food is very good and reasonably priced. Place is beautiful, as well. —DE