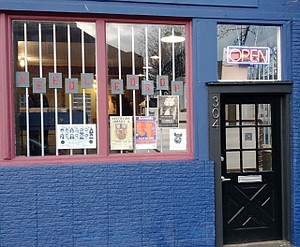 NeedleDrop Records
Location
304 Gregory Street, Rochester, NY 14620
Hours (as of Dec. 2011)
Monday - Friday 12:00PM to 8:00PM
Saturday: 10:00AM to 8:00PM
Sunday: 12:00PM to 6:00PM
Phone
585 271 6785
Wheelchair Accessible
No
Email
<management AT needledroprecords DOT com>
<needledroprecords AT gmail DOT com>
Website
http://www.NeedleDropRecords.com
Facebook
Twitter
Specializing in, but not limited to: Punk, Hardcore, Rock, Metal, Indie, Noise.
NeedleDrop Records is a vinyl store located on Gregory Street in the South Wedge. They opened in November 2011 and also sell headphones, speakers, turntables, replacement needles, and other audio equipment. They also sell custom handmade furniture and eventually plan on offering handmade goods.
Issues of Rochester Teen Set Outsider may also be purchased here.
Awards
Voted Best New Retail Store in City Newspaper Best of Rochester 2012 contest.
Comments:
Note: You must be logged in to add comments
---
2017-08-23 15:29:19 I think they are out of business