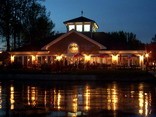 Former Location
5870 Big Tree Road (Rts 15/20A) Lakeville, NY 14480 (Conesus Lake)
The North Shore Grill was a [seafood"] restaurant at the north end of Conesus Lake that featured a beautiful view right on the water.

The North Shore had live music Thursdays beginning June 17th (jazz and acoustic) and great bands every Friday and Saturday night from Memorial Day thru mid September. Sit waterfront, enjoy seafood and other American fare or enjoy their firepit and tiki bar. Whether you want to pulled up on your boat, or car, they had something for everyone.

For more Info and pics Google Local Link
Comments:
Note: You must be logged in to add comments
---
2010-07-29 09:39:38 Went for dinner at North Shore Grill Sunday July 25th and had the WORST experience. The place didn't look busy, but was told there was a 20 minute wait for a table outside. We sat at the bar and waited for our name to be called for almost 40 minutes. In the mean time, 4 people arrive after us, got drinks at the bar and knew the hostess. 5 minutes later they were given a table outside. Then another couple walked through the front door, who also knew the hostess and were walked right outside to a table. We asked why were they given tables before us - the hostess seem mad we would even ask such a question.
Then once she finally gave us a table, service was so bad. They had 1 waiter for 10 tables.
Unless you know the hostess... go somewhere else for dinner ! —tdipasqu

---
2011-02-11 10:43:02 We have eaten here many times in the summer and winter and have never have seen anything like the last comment. Yes it does get busy at times but what good place doesn't. It is always worth the drive from the burbs, only 30 min. Great seafood and not the kind you get at a chain. They even do Sushi on Thursdays, who thought in Lakeville! Even better in the summer with the bands and tiki bar. A real vacation spot in our backyard. —JoeFlanigan
---
2011-03-14 17:10:08 Went here after some friends told us about it. Not too bad of a trip from the city. Just a couple miles off exit 9 on 390 (I think?). Had an amazing seafood platter and my boyfriend had a steak which was cooked MR just like he ordered. We may go again next week as we got a free $15 certificate for a weeknight with our purchases. Think this deal ends in a couple weeks. Our server was great and the building was really nice. The lights streaming off the ice covered lake at night were cool. We shared the largest piece of chocolate cake I have ever seen at a restaurant. —JennaBrady
---
2011-07-22 23:55:33 Had dinner here tonight and will not be back. The service was really, really slow but at least the food was poor too. I ordered a prime rib sandwich MR. What I got was a burned hung of shoe leather with lots of fat and gristle, a tasteless roll of some sort and extruded fries. My wife had the asparagus salad and was not impressed. Come to think of it I don't think anyone in our party of 8 really enjoyed their meal. It was not helped by the slow service and the fact that some people were done with their meal before others were served. —HenriettaRob

---
2011-11-21 15:55:12 Have been out to the North Shore a few times now and will keep coming back! Every entree I have had has been great. I truly enjoy the features they have every night. I love the seafood and my fiancee loves the filet and I cannot forget the goat cheese and asparagus salad. The servers are professional and do a great job helping with a wine or a entree selection. The manager always stops by the table and checks on us like we are regulars. The building is new and unique with great views, a weathered copper top bar and a fireplace for the cooler days. —jimalice