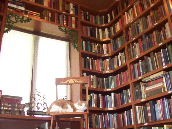 Old Scrolls Book Shop
Old Scrolls Book Shop is a used and rare book store located in the beautiful Finger Lakes area between Rochester and Syracuse. They sell used, rare, and out of print books that can be browsed online or in the shop.
Said shop is two floors of over 7000 books - including collectible, first edition, and antiquarian - on a variety of topics such as Americana, religion, history, exploration, zoology, biography, classic literature, poetry, art and more. Old and modern novels, mystery, Modern Library, local and regional history, university press and other scholarly publications. Large selection of books on horses and horsemanship, nature, and animal behavior.
Old Scrolls is a member of the Rochester Area Booksellers Association.
Comments:
Note: You must be logged in to add comments