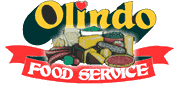 Olindo Food Service logo
Location
1510 Lyell Ave., Rochester NY, 14606
Hours (as of May 2012)
Monday - Friday: 9:00AM to 4:00PM
Saturday: 9:00AM to 3:00PM
Phone
585 647 1985
Accessible
Yes
Website
http://www.olindofoodservice.com
Olindo Food Service is a grocery store focused on providing Italian food. Located on Lyell Avenue.
They go by a number of names: Olindo's, Olindo's Food Service, Olindo Food Service, Olindo's Cash & Carry Food Service.
The Insider ran a piece on the store on September 26, 2007. While the original article is no longer available, the
Google cached version may be available.
Comments:
Note: You must be logged in to add comments
---
2009-02-21 20:17:42 Great selection of frozen pasta —MrPhil