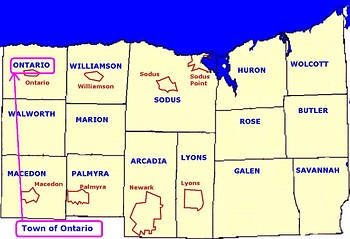 Town of Ontario
Ontario is a town in Wayne County, NY to the north east of Rochester bordering on Webster in Monroe County on the west, Lake Ontario on the north, the Town of Williamson to the east and the Town of Walworth to the south. Ontario's zip code 14519 covers an area larger than the town -
US Post Office 14519. The town contains Ontario Center and Union Hill which have their own zip code addresses.
Route 104 runs west to east from Webster in Monroe County through Sodus and east through the county. Lake Road runs west to east along the shore of Lake Ontario and is part of the Seaway Trail. Route 350 runs north to south from Ontario Center to the Village of Macedon.
Ontario Center is a hamlet within the town of Ontario at the intersections of Route 104 and Route 350 and features most of the main commercial districts within the town.
US Post Office - Ontario Center - 14520
Union Hill is a hamlet within the town of Ontario near the town line and Wayne and Monroe county lines along Route 104. The Union Hill Fire Department and Union Hill Grill are focal points of the hamlet, even though the Grill is across the county line in Webster. See
Vintage Union Hill Photo and Map on WNYRails.org. *
US Post Office - Union Hill - 14563
Attractions and Notable Facts
Business in Ontario
Notes and References