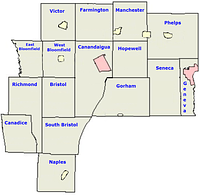 Ontario County towns and villages (click to enlarge)
Ontario County is southeast of Monroe County and is part of the
Rochester, NY Metropolitan Statistical Area. The county name is a corruption of the Iroquois word meaning "beautiful water." 1.
The County Seat is in Canandaigua and the county is governed by a Board of Supervisors made up of the Town Supervisor from each of the towns in the county with one extra from Canandaigua and two extra from Geneva.
Located within the Rochester region, Ontario County is bordered on the north by Wayne County, on the northwest by Monroe County and on the west by Livingston County.
Towns
Bristol, Canadice, Canandaigua, East Bloomfield, Farmington, Geneva, Gorham, Hopewell, Manchester, Naples, Phelps, Richmond, Seneca, South Bristol, Victor, and West Bloomfield
Cities
Villages
Hamlets
Lakes
Major Routes

Attractions and Noteworthy Facts

Notes and References

Links

Comments:
Note: You must be logged in to add comments