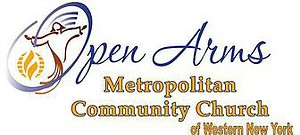 Open Arms MCC is a
Metropolitan Community Church in the East End. They are a very progressive congregation that supports the LGBT community. Founded in 1981.
In Their Own Words
Open Arms MCC is proud to be a congregation serving people with assorted beliefs, backgrounds and sexual identities. From our origins serving gay, lesbian, bisexual and transgendered people, we have become an inclusive and affirming congregation that actively welcomes all people.
We are called to build bridges that transform lives and transform our world. We are called to welcome others into the experience of a spirituality that is vibrant, inclusive and progressive. We are called to generously share our time, talents and resources. We are called to be beacons of faith, freedom and justice here and around the world.
Comments:
Note: You must be logged in to add comments