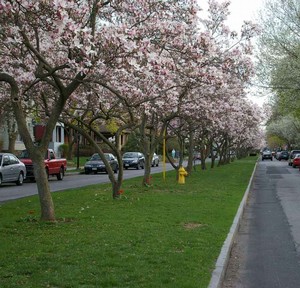 Magnolia trees in bloom on Oxford St, 4-2008
Oxford Street is a beautiful residential street in Rochester's Southeast Quadrant. Its route takes it through several of the city's hottest neighborhoods: Monroe Village, the Park Avenue area, the East Avenue Historic District, and the Neighborhood of the Arts. Oxford is also considered to be the western border of the Park-Meigs Neighborhood. Living here puts you within easy walking distance of many opportunities for art, dining, nightlife, and shopping.
The Oxford Mall is located on Oxford Street between Monroe Avenue and Park Avenue and it is well known for its magnolia trees which blossom every spring, for a brief but dramatic display around the first week of May. Some old post cards for Rochester would use drawings of this street in full bloom.
Notable intersections are University Avenue, East Avenue, Park Avenue, and Monroe Avenue.
Located on Oxford Street
Oxford Street Mall, Photo captured in June 1998 by David Howe
Oxford Street is lined predominantly with big old houses, most of them subdivided into apartments. Park Oxford Properties is the big landlord, with The Roosevelt as their flagship building. Oxford Street does have the following establishments, however (traveling south):
The Monroe Village Farmers' Market is held seasonally in Blessed Sacrament's parking lot.
Links
Comments:
Note: You must be logged in to add comments