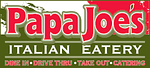 Company Logo
Location
485 Spencerport Road, Rochester NY, 14606
Hours (as of January 2013)
Lunch: Monday -Friday: 11:30AM to 2:30PM
Dinner: Tuesday-Thursday: 4:30PM to 8:00PM
Friday, Saturday: 4:30PM to 9:00PM
Sunday: Catering only
Phone
585 247 7920
Accessible
Info Needed
Website
http://www.PapaJoesEatery.com/
Reviews
CitySearch.com
MetroMix.com
Papa Joe's Italian Eatery is a restaurant serving Italian cuisine. It is owned by John Bellone & Glenn Tribotte.
Papa Joe's is located on Spencerport Road in Gates. They offer drive-thru, take-out service and catering.
Comments:
Note: You must be logged in to add comments
See Archive Page for comments prior to 2008.
---
---
2008-01-06 15:57:11 Had dinner here again last night for 2nd time and it was just as good as the first. Went with friends who had never been, and they loved it as well. —WestSideB
---
2008-11-16 22:22:56 I had dinner here last night with my girlfriend and we both agreed that it was not that great. The salads were very over dressed and greasy. I had the eggplant parm and liked the eggplant but the tomato sauce lacked flavor. My girlfriend had the veal french and said it was very salty. The dinner plates were also cold. The service and atmosphere were great however. I would be willing to try it again since there seemed to be many return customers in the restaurant. —TimDoster
---
2009-01-29 15:29:51 The food is alright; I would expect better for the price. I have gone three times for lunch and once for dinner. —RobertFrapples
---
2009-09-10 18:28:07 Had dinner here with the wife and two little kids a couple nights ago. The quality of the food was outstanding - as always. The service is always a little slow, and with little kids that can get kindof annoying - both for us and for the other patrons! But the food itself was fantastic. Definitely worth going to. The lackluster reviews the place got in 2008 hopefully are too old to be representative of the place now... because we loved it and will definitely be back. —DavidGottfried
---
2010-03-04 17:41:52 So good. Portions are very nice! I could eat a loaf of their bread, easy. Chicken Parm is DELISH!!! —RorisonMeadows