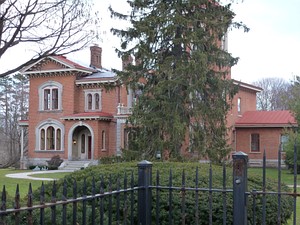 February 2012
Location
692 Mount Hope Avenue, Rochester, NY 14620
Wheelchair Accessible
Info Needed
The Patrick Barry House is a historic site that was built in 1855 by Patrick Barry of Ellwanger and Barry and the Mount Hope Garden and Nurseries. It is located on Mount Hope Avenue.
The house was given to the University of Rochester in 1963 by the heirs of Patrick Barry's daughter, Harriet Barry Liesching, who had lived there until her death in 1951. A careful restoration was carried out from 1964-65 under the direction of Elizabeth Holahan of the
Society for the Preservation of Landmarks in Western New York. According to Holahan in a 1981 UR press release, the Barry House is the nation's "outstanding" example of the Italian style of the Victorian period. The one comparable residence, located in Bridgeport, Connecticut, was razed in the 1970s despite protests from preservationist groups. In 1969 the Barry House parlor and library were featured in in Nancy Comstock's 100 Most Beautiful Rooms in America.
The grounds of the Barry House are especially notable for the number of trees planted by Patrick Barry which are still living today. They include some of the finest specimens from the Ellwanger and Barry nursery and are nationally famous in among horitculturalists.
Today the Patrick Barry House is used as the residence of the University of Rochester Provost. It underwent a second renovation in 2008 and is now part of UR's Mount Hope Campus.
Links
Comments:
Note: You must be logged in to add comments