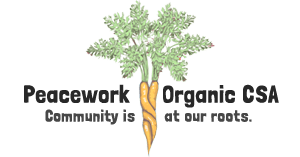 Peacework Organic CSA is a 25 year-old partnership of consumers and farmers in the Community Supported Agriculture model. They were formerly known as Genesee Valley Organic Community Supported Agriculture. Peacework Farm provides member shareholders with fresh, high quality, certified organically-grown vegetables throughout the growing season (26 weeks) and for storage through the winter. The member shareholders provide the farmers with a reliable source of income, a source for some of the labor needed to help harvest, and distribute the food during the growing season. Pick up takes place at Abundance Cooperative Market
Over 100 different varieties of vegetables are organically grown including: asparagus, cabbage varieties, carrots, collards, basil, beets, kale, peppers, squashes, tomatoes and zuchini. A weekly share includes an average of six to ten different vegetables in a full share — less early in the season and more as the season peaks. Partial shares include 4 - 5 vegetables. Sliding scale pricing is available for Full Shares, and food stamps are accepted.
Additional quantities can be purchased separately for those interested in canning, freezing, and other storage. Special orders take place during the season to purchase fruits or other items produced by other small local farms. Membership is open to anyone in the Greater Rochester area. Families are especially welcome, and they arrange the farm work schedule to include children to the greatest extent possible.
It is the oldest CSA in the Rochester area, co-founded in 1989 by retired farmer Elizabeth Henderson as a project of the Politics of Food. The present farmers are Ammie Chickering and Greg Palmer. In signing up, members agree to share the risks and rewards of growing local food with the farmers. As a true farmer-nonfarmer cooperative, Peacework Organic is unique among area CSAs. All members participate either by serving on the Core Committee that administers the CSA or by doing work shifts at the farm and at distribution. Providing this labor helps keep the cost of shares reasonable. Members and their children get to experience the farm where their food is grown and to know the people who are growing it.
Their season typically starts in mid-May, following a May Day Party on the farm.

Comments:
Note: You must be logged in to add comments