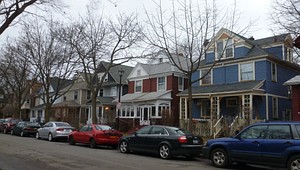 Pearl-Meigs-Monroe is a city neighborhood consisting of a large portion of Monroe Village and its nearby residential streets. Its name derives from Pearl Street, Meigs Street, and Monroe Avenue.
Pearl-Meigs-Monroe is adjacent to Wadsworth Square, another Monroe Ave-centered neighborhood. The two are sometimes considered to overlap, with Wadsworth as Pearl-Meigs-Monroe's northwest section. Pearl-Meigs-Monroe also contains the smaller neighborhoods of Harper-Wilmer, Linwood-Priem, and Lock 66.
Although the Park Ave area is only a short walk away, real estate is much cheaper in Pearl-Meigs-Monroe, though generally less high-end. Over 80% of its residents are renters. Still, it is a decent area and the people are very dedicated to where they live.
The Garden District
Over the past few years some residents have pushed to be known more as the Garden District rather than Pearl-Meigs-Monroe. Their desire is to redefine the neighborhood's image and give it a more distinct character. To this end they are encouraging more neighborhood pride through gardens, social events and neighbor unity.
Establishments
See also: Monroe Village and Wadsworth Square
Links
Comments:
Note: You must be logged in to add comments