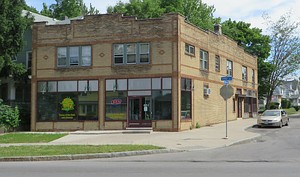 Photo by John Boutet of second location on Chili Ave.
Location
575 Brooks Avenue, Rochester, NY 14619
Hours (as of February 2020)
Monday - Saturday: 11:00AM to 8:00PM
Phone
585 464 8790
Wheelchair Accessible
No
Alcohol
No
Website
Facebook
Reviews
Location19.org
People's Choice Kitchen is a Caribbean and soul food restaurant in the 19th Ward. Opened around 2002 on Chili Avenue, moving to the present location around the beginning of 2016.
Comments:
Note: You must be logged in to add comments
---
2020-02-20 21:52:10 Moved to 575 Brooks Ave., around January 2016 I think. —markjackson