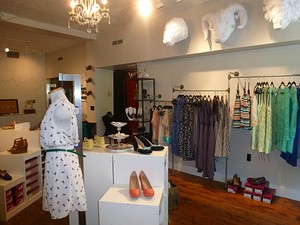 May 2013
Shop Peppermint is a women's clothing store in the Culver Road Armory that features apparel and accessories manufactured and hand-selected by local designer Tanvi Asher. She also offers works of other local designers and artists on a rotating basis. Jewelry and home goods from local artisans are sold here.
Online shopping is also available via the
website.
Shop Peppermint opened on April 14, 2012. Located in the Park Meigs Mall, they were originally on the Meigs Street side of the building. They moved into the larger front space in March 2013. They will move to the Culver Road Armory in October 2016.
Original Space (August 2012)
| | |
| --- | --- |
| Original entrance on Meigs Street. | Window display made of reclaimed plastic hangers (original entrance). |
Comments:
Note: You must be logged in to add comments
---
2012-03-12 16:32:11 I am very excited about this. The clothing is very cute and the prices are just right. Great to see more great shopping on Park Avenue! —EileenF
---
2012-04-14 20:48:31 The owner of this store claims that she makes everything she sells. A bunch of ex-supporters found "her" designs on wholesale websites. She buys and resells as her own. She is now telling the public that she has the clothes made in NYC. She is very dishonest. I would never shop there. Ask her to show you how she makes a dress. I bet she would not be able to sew a hem.
Care to provide a link to one of these wholesale sites or are you just going to make very serious allegations without backing them up? It should also be noted that Asher has a workshop right in the store itself. —EileenF

---
2012-04-15 20:22:45 BEST BEST BEST place to find a unique dresses for a reasonable price! Love this shop!!! Also picked up the cutest bow ties for my hubbie and toy bunny for my niece. All made in USA. Whoo - hoo!
---
2012-04-15 21:35:11 I went to the opening yesterday after much hype from my friends in the local craft scene. I was not disappointed! The boutique was adorable, and Tanvi the owner was charming and wonderful. There was a large selection of beautiful scarves, and some really cute dresses with great print. Tanvi designs all the dreses and scarves right down to print on the fabric. I was impressed! I picked up a great bowtie (that was locally made) and will definately shop there again!
---
2012-04-16 11:43:35 Went to the opening this past weekend and loved the shop. The atmosphere is great, and the prices are reasonable (a win/win for Park Ave!). Hope to be able to drop in again soon! —AnnaP
---
2012-04-17 11:40:25 Tanvi Asher as an artist and a business woman is an example of evolution and growth. She has worked hard to grow from making her designs in her basement and selling them in a tent on our local shows to having her own boutique and having her designs manufactured in NY City to be able to handle the demand for her product. She is an example of how perseverance and hard work can lead every one of us to Success. And not only she is succeeding she is providing local established and new artists and crafters the opportunity to expand and grow their own products. —eccentricsoul
---
2012-09-02 22:42:07 I love this store! It's fantastic! There are some really wonderful local artists, great prices, and the clothing that Asher designs is both cute and flattering on any shape! I can't wait to go Christmas shopping for friends and family, as Peppermint is the IT place for subculture genre jewelry and other accessories! (If you're not into subculture genres, never fear! Lots of awesome stuff!) —faeriedreamz@gmail.com
---
2013-02-03 16:25:23 She's moving to the space in front formerly occupied by Utter Clutter. The store will be closed from 2/23-2/28. —EileenF
---
2013-04-02 16:10:27 I have also heard about peppermint's business faults. Rumor has it that she used have her clothing sold at Thread boutique but was "fired" because her clothing was sent to the owner in an e-mail from the original wholesaler for a portion of the cost. Maybe it is made in NYC now, but I doubt she can actually make any clothes herself. She can definitely work PR into fooling people she's a designer but really she appears to be just a buyer and a fraud. Adding video footage of patterns doesn't mean she made them. I would never shop there and frankly she gives actual creative people a bad name. —amberly
---
2013-04-16 14:11:00 I'm not quite sure what all of the anger in these comments is about, but I've been shopping at Peppermint since it opened, and have spoke in length with Tanvi about her designs and how the business is run, I'm sure she'd discuss this with you too. She carries other brands in addition to her own line Peppermint. I'm sure she'd even give you a peek at her back room where she does a lot of her work; she's there pretty much 7 days a week. And at this very moment she's designing a dress for me, I'm going in to be fitted for it shortly. So I think people should look into things a bit more before you start voicing nonsense on public forums. I love this local gem, and there are enough people that would agree with me on that. Being close minded and judgmental will get you nowhere in life. My friends and I will continue to visit Peppermint regularly, not only is it a fabulous store to shop in, but the staff is so kind and welcoming, it's like having them as a personal stylist and friend. —AlyssaB
---
2013-04-16 14:36:06 Wow, there are some interesting comments on here. Peppermint is one of my favorite boutiques in Rochester. The shop features designs by Tanvi Asher, local artists/designers, and several others. I like the selection and that new items are being offered constantly. It's very rare that you would have the same dress as someone else and the pricing is very reasonable. Tanvi has never misrepresented who designs what in her store. Any customer can have a conversation with her about the products for sale or about any of the artists/designers represented. She's very friendly, funny, and has a great eye for accessories that pair well with her designs. —LadySensory
---
2016-09-13 13:15:46 It should be noted that the negative comments on here come from an individual who has slandered Tanvi in the past and was threatened with legal action for doing so. —EileenF