The Town of Perinton
Location
Southeast of Rochester, in Monroe County, New York

Town of Perinton, Monroe County, New York

Google map
Perinton
Detailed map (PDF)
Detailed map of Perinton
Geographical Area
34.4 sq. miles
Population
46,462 as of 2010 US Census
Incorporated
1812
Town website
http://www.perinton.org
Town Hall
Perinton Town Hall
Home to Village(s)
Fairport
Wikipedia article
Perinton, NY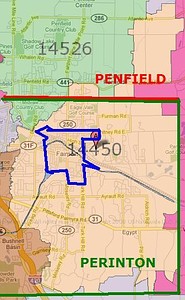 History
Perinton was settled in the late 1700s, with the Village of Fairport becoming an Erie Canal hub in the early 19th Century.
Perinton became a booming suburb of Rochester beginning in the 1950s, mixing residential development with relatively restrained commercial growth. Population growth has slowed since 2000.
For a more detailed history, see
A Brief History of Perinton, on the town web site.
Perinton Uses Fairport Zip Code
Perinton includes the Village of Fairport, the small area outlined in blue on the graphic 1 to the right. The "Fairport Zip Code", 14450, shown in pink on the graphic, covers all of Fairport. However, it also covers a majority of the Town of Perinton and parts of the Town of Penfield. In fact, there are no "Perinton" addresses; Perinton residences use Fairport, Victor, Pittsford, Penfield, or Macedon mailing addresses.
Notes

Voted one of the "Top 100" places to live in the USA in 2005 by Money magazine. You notice this when entering the town where the 'Welcome to Perinton' signs have been modified to inform the visitor of this fact.


Noted for a lot of trails, in fact, Perinton calls itself "Trail Town".
See Also

Comments:
Note: You must be logged in to add comments