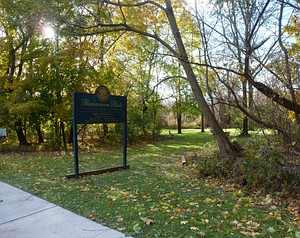 (Nov. 2013)
Location
1551 South Clinton Avenue, Rochester NY, 14620
(Near the corner of South Clinton and Highland Ave)
Hours (as of May 2012)
Monday - Friday: 7:00AM to 10:00PM
Phone (Brighton Recreation and Parks Dept.)
585 784 5260
Website
Brighton Parks Page
Persimmon Park is a park operated by the Town of Brighton on the southwest corner of Highland Avenue and South Clinton Avenue, just south of Pinnacle Hill. Access is primarily on foot but there are a couple of parking spots on Eldridge Avenue and parking is allowed on nearby residential streets (but not Clinton or Highland).
The park is so-named because of the beautiful persimmon trees growing there. This is primarily a passive park meant for the enjoyment of nature, and is popular with residents in nearby apartment complexes.
This park was created on land that had been originally acquired by the State for the Genesee Expressway project that would have connected Interstate 390 directly with downtown Rochester. Part of the property had historic homes on it and there are still some foundation remnants visible among the woods.
Facilities include:

Small mowed lawn area with benches amidst the woods
Comments:
Note: You must be logged in to add comments
---