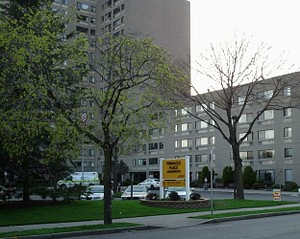 Pinnacle Place Apartments
Location
919 Clinton Avenue South, Rochester, NY 14620-1452
Occupant
Residential
Wheelchair Accessible?
Yes
Pets
Info Needed
Property Manager
Beacon Communities, LLC
Property Manager's Phone
585 442 9440 or 866 431 3189
585 256 2007 - Fax
Email
<Pinnacle AT BeaconCommunitiesLLC DOT com>
Property Manager's Website
Official Website
Architect
Info Needed
Construction
Info Needed
Third-Party Websites
Rent.com
Pinnacle Place Apartments is a high-rise apartment complex in Swillburg. It is a senior community for ages 50 and older.
Amenities include a library, onsite religious services, a community room, off-street parking, a shuttle bus for shopping, and emergency pull cords in each apartment.
Comments:
Note: You must be logged in to add comments