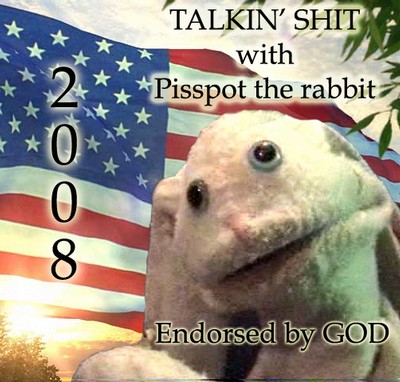 Pisspot the rabbit
Pisspot appears on the local cable access show I'm Going To Make A Drug With My Mind on RCTV 15 in Rochester. Pisspot began his career as a therapy puppet at the Strong Memorial Hospital Psychological Trauma Center, so he has a lot of shit on a lot of people and, as he is prone to saying, I ain't no fuckin' psychiatrist, so I don't HAVE to keep my yap shut.
After suffering social worker burn-out, Pisspot began to appear on the I'm Going To Make A Drug With My Mind tv show after being discovered by producer Jonny One-Lung. Pisspot has died on the operating table getting his lungs removed, frolicked with naked pagans, attended a simultaneous Sci-Fi convention and model search and interviewed such favorites as Daniel Johnston, Jucifer, Napolean Murphy Brock and Ike Willis of Frank Zappa's band, Murphy's Law, Chuck D. of Public Enemy, Brave Combo, Eugene Chadbourne, Dr. Dirty John Valby, Dame Darcy and many, many others.
Pisspot and Jonny One-Lung were roaming correspondents at the 2004 Republican Convention in New York City for WCMF-FM morning DJ, Brother Wease. It was in NYC, that Pisspot was humiliated by Triumph the Insult Comic Dog and appeared on Ted Koppel's NIGHTLINE.
Pisspot also writes a monthly column "Talking Shit" for the awesome Austin, Texas magazine "WHOOPSY".
PISSPOT WILL ALSO BE RUNNING FOR PRESIDENT OF THE UNITED STATES IN 2008. YOU HEARD IT HERE FIRST.
Pisspot clips on YouTube
PISSPOT'S CANCER SURGERY

PAGAN SUMMER VACATION

TROUNCED BY TRIUMPH (Check out the comments!)

INTERVIEW AND PERFORMANCE- DANIEL JOHNSTON AT THE BUG JAR

AT THE REPUBLICAN CONVENTION

PISSPOT ON NIGHTLINE

PISSPOT IS INTERVIEWED