Pittsford, Schoen Place shopping area, 2020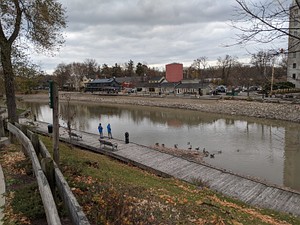 Pittsford Canal Path, 2020
History

Notes
Pittsford is the most upscale of all of Rochester's suburbs. While it is not the wealthiest (Mendon is wealthier) it is a close second. Rochester is not a superficial city though, so unlike other upscale areas in this country, Pittsford does not feel pretentious. Anyone will feel welcome in the town. The Village of Pittsford is a must stop when visiting the Rochester area. It is an idyllic setting along the Erie Canal.
School District

Location:
The town and village of Pittsford are southeast of the City of Rochester. From downtown Rochester, follow Monroe Avenue south past the Upper Monroe Ave Neighborhood, through Brighton and into Pittsford. Like a lot of Rochester's eastern suburbs, Pittsford started out as a small canal town
Attractions:
The canal area has been well preserved and maintained, and public parks are a great place to wander around and enjoy nature. Biking along the Erie Canal is a good way to spend a spring or summer day, and there are a lot of nifty shops, restaurants, and artistic outlets. The Schoen Place area on the canal is a great place to visit on the weekends to relax and feed the ducks and pigeons.
Parks -
Edit List

Copper Beech Park


Habecker Fields


Hopkins Park


Paul Spiegel Community Center


Port of Pittsford Park

See Also

Comments:
Note: You must be logged in to add comments